The Madonna ICARE System by SportsArt will become an integral part of the facility's physical therapy continuum of care
Seattle, WA (November 12, 2021) -- SportsArt, a leader in fitness equipment, design, and manufacturing, has been selected by Moving With Hope to provide the Intelligently Controlled Assistive Rehabilitation Elliptical (ICARE) system as part of the nonprofit physical therapy clinic in Shelton, Connecticut. The Madonna ICARE System by SportsArt is fully integrated and will provide a safe and effective method for helping individuals recover from brain or spinal cord injuries, Parkinson's disease, MS or neuropathy.
"When we opened our doors over a decade ago we had a single mission in mind -- to provide year-round access to rehabilitation for those people recovering from moderate to severe neurological conditions," said Tad Duni, founder, Moving with Hope. "We recently expanded our footprint and added the Madonna ICARE System by SportsArt because of its uniqueness and versatility. The machine's motor assist capabilities will empower our patients during treatment while allowing our clinicians to focus on developing overall treatment plans instead of manual manipulation during sessions."
Building on the patented technology created by Madonna Rehabilitation Hospitals' researchers, clinicians and patients, the Madonna ICARE System by SportsArt can address the rehabilitation needs of users with both upper and lower body challenges. ICARE's intelligent control is designed to provide an 'assist as needed' approach to moving the arms and legs similar to what a therapist provides physically and intuitively while gait training a patient. The intelligent control can also transition seamlessly from assisting to resisting, thus allowing training to evolve in response to the users' abilities.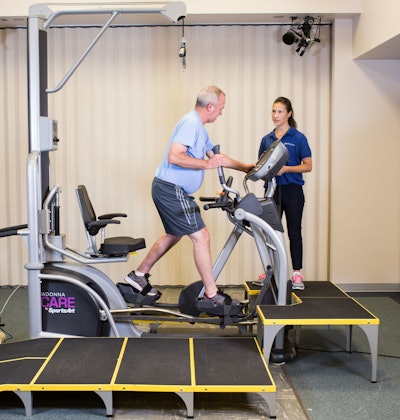 "ICARE is more than a piece of rehabilitation equipment. It helps people envision—and accomplish—what they can do instead of focusing on what they can't do," said Dr. Judith M. Burnfield, PhD, PT, Director of Madonna Rehabilitation Hospitals' Institute for Rehabilitation Science and Engineering and leader of the research team that created the ICARE through funding provided by the National Institute on Disability and Rehabilitation Research.
Ruben Mejia, Executive Vice President, SportsArt Americas highlighted, "The driving force behind our partnership with Madonna Rehabilitation Hospitals is to create intuitive and versatile equipment that will help rehabilitation facilities get patients back to living their best life, regardless of where they are in their journey."
Exercise is an important piece to anyone's overall health; it becomes even more important for those living with a physical or neurological disability. Moving With Hope is the first organization of its kind to offer affordable rehab, exercise and skills training to people living with disabilities year-round. By creating community-based membership programs and installing equipment like ICARE, Moving With Hope bridges the gap between traditional physical therapy rehabilitation and general fitness offerings under one roof.
Relearning to walk and remaining physically active are important rehabilitation goals for individuals with weakness, numbness, or balance problems and those recovering from a debilitating injury or illness. The ICARE's leg movements were designed to closely mimic the motions and muscle demands of walking. Research has shown that ICARE training can help individuals regain or retain walking, fitness, and balance even after romal rehabilitation has ended.
"SportsArt shares the same goal as Moving With Hope - to provide people with the best possible opportunity to realize optimal recovery, health and wellness," added Mejia. "Our ICARE machines are a direct extension of this goal, allowing both organizations to provide a wider population with access to rehabilitation and fitness solutions."
For more information on Moving With Hope visit movingwithhope.org. To learn more about SportsArt or The Madonna ICARE System by SportsArt visit gosportsart.com.
About SportsArt
With more than 40 years of innovative design and manufacturing excellence, SportsArt continues to lead the fitness industry through revolutionary sustainable solutions. Along with the world's only line of energy-generating cardio equipment, ECO-POWR™, SportsArt also offers a full range of high-quality cardio, strength and rehabilitation equipment for the fitness, medical and residential markets. Known for its dedication to service, durability and cutting-edge technologies, SportsArt is one of the largest single-brand manufacturers in the world with over 500,000 square feet of state-of-the-art space. The company designs, manufactures and tests all equipment in-house before it is sold in over 70 countries worldwide. For more information visit www.gosportsart.com.
About The Madonna Rehabilitation Hospitals
Madonna Rehabilitation Hospitals offers world-class physical and medical rehabilitation and research. Specializing in brain and spinal cord trauma, stroke and neurological conditions for adults and children, Madonna takes the most medically complex cases. We offer hope and healing and return patients back to their communities at a higher rate than industry benchmarks. Madonna's Institute for Rehabilitation Science and Engineering focuses on bridging research with the realities of clinical care to advance rehabilitation science, technology and outcomes. Learn more at madonna.org.
About Moving With Hope
Moving With Hope is a leading adaptive fitness, learning, and rehabilitation center based in Shelton, Connecticut that provides essential rehab, exercise, and skills training to people living with physical disabilities.