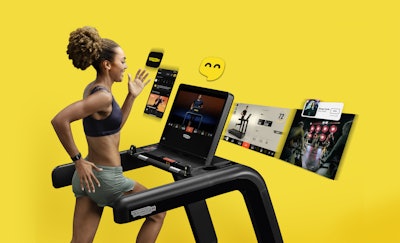 Range of Experiences Offered Within the Technogym Ecosystem 
San Diego — March 20, 2023 — At IHRSA (Booth #1735), one of the fitness industry's biggest trade show and convention, Technogym presents the latest innovations that will be available worldwide over the next couple of months. During the tradeshow, visitors will have the opportunity to see and preview the latest innovations by Technogym that level up the end-user experience and match the expectations of the ever-changing industry. In a world in which the boundary between online and offline experiences becomes increasingly blurred, delivering a unique, authentic, and personalized consumer experience is key. Today, consumers have more choices than ever, allowing them to take a central role in the consumer experience, which has been accelerated by the digital revolution. When it comes to fitness, members expect their fitness clubs to understand their needs, their passions, and their personality.
Technogym Ecosystem Open Platform
Technogym has been investing for years in a unique digital ecosystem, with the objective of growing the industry, making it more attractive to end users and more credible towards institutional stakeholders (insurance, health systems, the medical world). The Technogym Ecosystem includes connected equipment, apps and on-demand video training content and can connect each individual user to their own personalized training experience for fitness, sport or health anytime and anywhere. 
Technogym Ecosystem is an open platform that can be easily integrated with software applications (membership software, marketing and payment platforms, body analysis and assessment devices) already used by the club or with members' consumer apps and wearable devices. MyWellness, the Wellness lifestyle CRM of the Technogym Ecosystem, additionally allows clubs to accelerate their digital strategy, improving member's experiences and increasing ROI thanks to the surge in the attraction rate, retention, upselling and secondary spend.
Technogym App is the consumer point of access to the Technogym Ecosystem, allowing users to connect to their personal training experience anytime inside and outside their facility. Additionally, thanks to the Technogym app, users have access to an exceptional variety of on-demand of training content.
Universe: The Best Functional Strength Modular Platform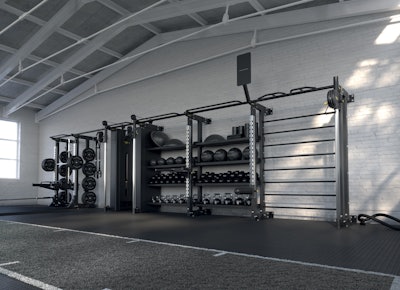 Universe, Technogym's new modular functional strength system, developed to the direct specifications of top Strength and Conditioning and functional training coaches, was created to offer users an unprecedented variety of exercise possibilities, resistance and digital training content. Users can train with an always-new and always-varied workout to train their bodies in the most complete and integrated way thanks to seven different resistance types (from weights, to cable, controlled inertia, magnetic, bodyweight, elastic and isoinertial) stimulating muscles in endless ways to make users ready to face different challenges and optimize performance in the same amount of time.
Skillrun Bootcamp: The Ultimate Technogym HIIT Experience
Skillrun Bootcamp is a fun and engaging fully guided Bootcamp experience, providing unmatched exercise variety tailored on performance. It combines cardio and power training in different, fully guided training experiences offering end users adrenaline-filled workouts and enabling operators to have an unprecedent level of training in the facility. The class leverages the unique Skillrun technology and performances (speed, parachute, sled…) with the endless Technogym Bench strength and conditioning training options. The workout alternates running, functional and strength sessions, ensuring variety of training and effectiveness in achieving goals. 
The New Teambeats: Digital Solution for Group Training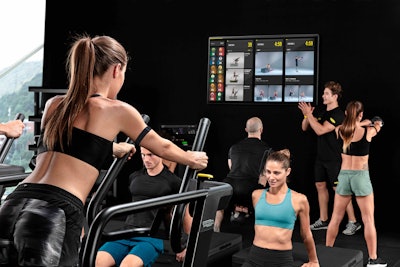 The new Teambeats is the digital solution for group training experiences to help users easily train, keeping focus, have fun and get better results faster. It is versatile and adapts to any functional or HIIT space and has been designed to provide users with the best possible guidance during the class. The user interface has been completely redesigned to be the most seamless experience during a class, and to help users train correctly and at the right intensity. Simultaneously, trainers have the possibility to design classes with total flexibility to deliver endless training experiences, on one or multiple screens, leveraging an extensive library of workouts and curated content, ensuring variety and fun for all without compromising guidance.   
Biostrength: The Revolution in Strength Training
Biostrength, the new Technogym line for strength training, adapts to the user, thanks to a patented technology that relies on artificial intelligence and scientific research, and in the same amount of time ensures a result that is about 30 percent better than classic training with tools or free weights.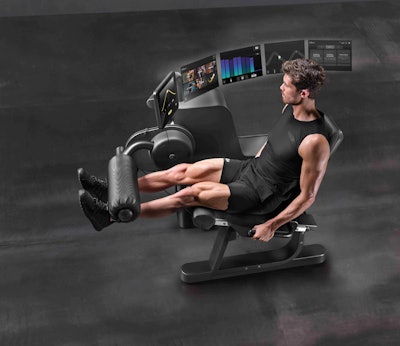 Biostrength allows users to train with the right load for their needs, with the right range of motion, correct posture, speed of execution, and by indicating the number of sets, repetitions and optimal recovery time. The patented Biodrive system, which uses aerospace technology, offers six types of resistance, which can improve the effectiveness of the exercise depending on the goal to be achieved. The user is guided through every aspect of the workout to achieve maximum results in a safe and fun way.
PURE: The New Iconic Pieces for Strength Training 
Pure, the most innovative plate-loaded product range in the industry, was developed as a result of Technogym's extensive experience in athletic performance training as Official Supplier to the last eight Olympic Games and many international elite athletes. The Pure line has been expanded with the addition of two new pieces of equipment that cover two very popular exercises that speak to the growing trend for strength training: Belt Squat and Deadlift.
The extensive PURE range that now includes 22 different pieces of equipment allows operators to create the perfect solution for their training floor, as well as curate workout circuits dedicated to specific programs and new population clusters. For example, the Glute Builder Training circuit represents an excellent example of an innovative way to attract new customer groups looking for improving their body aesthetics.