I will never forget my senior college lacrosse season. I vividly remember entering conference play. Midway through the season, I was ranked fourth in NCAA Division I goalie save percentage. Up to that point, I had approached each non-conference game with a confident and relaxed attitude. I was playing "out of my mind."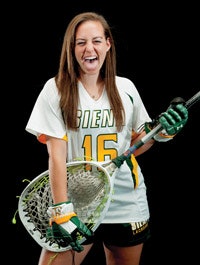 Once conference play began, however, something shifted. The games began to matter. I noticed I was playing well, but not as well as I was during the first part of the season. I felt frustrated with the outcome and completely forgot about the process. I focused on the negative plays instead of the positive contributions I had made. I recognized that something felt off and asked the people around me for help. I felt as if I tried everything but was not able to get back to the way I was playing earlier in the season.
My story is not uncommon in the world of athletics.

Dream job
I had always dreamed of having a job that would allow me to help athletes. After reflecting on my athletic career, I decided to become exactly the professional I needed so badly as a student-athlete — a mental performance consultant.
As a certified mental performance consultant (CMPC) through the Association for Applied Sport Psychology and founder of Infinity Mental Performance, I now work with individual athletes, coaches and teams on the mental side of their performances. That includes sport psychology skills, such as building and maintaining confidence through adversity, handling high-pressure situations, learning when and how to focus, and developing team cohesion and culture. These skills are important in not only improving performance, but also in maintaining performance at a high level.
I have worked with athletes from 6 years old through adulthood, with athletic experiences ranging from recreational to professional. I have worked in-person and virtually with individuals and teams across the country. Some of my favorite experiences include working with the University of Tennessee Reserve Officers' Training Corps program and student-athletes, the United States Military Academy at West Point student-athletes, and high school student-athletes and coaches.
The best part of being a CMPC is that sport psychology concepts can apply to more than athletic performances. While athletes, coaches, performance artists and military members are obviously performers, the reality is that everyone is a performer and can, in one way or another, benefit from these services. Life is a performance, as is being a student, parent, administrator or businessperson. With such a wide pool of potential clients whose needs can vary drastically, an emphasis of my work at Infinity Mental Performance is to provide individualized programing that enhances the specific skills that my clients need.

COVID strategies
Recently, I have received many questions about how to remain healthy and motivated through the COVID-19 pandemic. While an exceptional challenge for athletes and coaches, this unprecedented crisis has created adversity for all of us, in almost every aspect of our lives. While every individual's situation is different, here are three strategies to enhance optimal performance, motivation and well-being through the pandemic:
1. The COVID-19 pandemic has made many people feel that they lack control in their lives. One strategy to regain a sense of control is to focus on the present moment through diaphragmatic breathing. This is the process of breathing slowly in through your nose and extending the exhale out through your mouth as your belly rises and falls with each breath.
2. In addition to a lack of control, many people have struggled with feeling incapable of completing important tasks. It is important to grant yourself some grace when dealing with these difficult times. A great strategy is to create a daily highlight list to draw your attention to some positives instead of the negatives around you.
3. Due to various COVID-19 restrictions, many have noticed a lack of connection with others. Humans are social creatures and crave interaction. While this interaction came naturally pre-pandemic, it is now important to pay special attention to consciously developing the skill set of connecting with others. Video calls and phone calls can only fill your tank so much, so take the time to get creative and find different ways to connect with others. Some examples may be having a virtual movie night, scheduling phone or video calls to catch up, or hosting virtual trivia.
Our brains naturally tend to gravitate toward negative experiences in our lives, and it takes effort and persistence in order to emphasize the positive and maintain motivation. Right now is a challenging time for everyone, but as long as we do our best every day, we will come out of this stronger and wiser.

---
View an archive of the AB virtual workshop featuring a discussion with Danielle DeLisio on these issues at here.
---
This article originally appeared in the January | February 2021 issue of Athletic Business with the title "My journey from D-I athlete to mental performance consultant." Athletic Business is a free magazine for professionals in the athletic, fitness and recreation industry. Click here to subscribe.