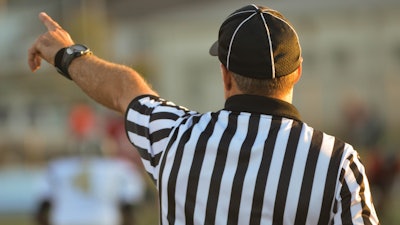 Never underestimate the power of a bad example, says Kevin Dustin, director of Athletics and Recreation at Lake Community College in Utah. Even if that example is yourself from years ago.
"I'm supposed to be the game administrator, and next thing you know, I'm waving my hands in the air and shaking my head when I thought it was a bad call," Dustin explained during a guest appearance in a recent (free) webinar hosted by ArbiterSports and Athletic Business. "And I remember looking to … the official, and he looked at me as if to say, 'You've got to help here. You can't be the guy that everybody sees waving your arms or rolling your eyes.' "
Dustin was joined by longtime coach, teacher and administrator Darryl Nance on the webinar — "How Sportsmanship is Impacting the Shortage of Officials" — which offers lessons on and solutions for the related dearths of good sportsmanship and available officials.
Log in to view the full article