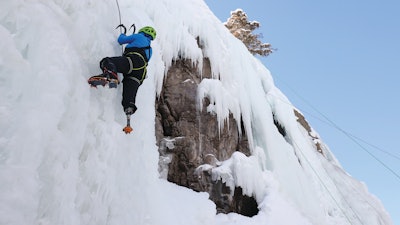 Photos courtesy of Paradox Sports
As an instructor introducing a course on adaptive climbing, Sam Sala presents his students with what seems a paradox: Why offer climbing for people with disabilities?
"I open the very first [presentation] slide and it says, 'Why climbing?' And I ask everybody in the room — all the non-disabled people who are there to learn — I'm like, 'Why do you climb?' " explains Sala, national program manager at Paradox Sports. "A lot of people are like, 'Oh, we want to go see the views from the top of a really cool mountain.' But somebody who is blind can't see that. So you might be like, 'Well, why would you bother climbing?' But just because they can't see it doesn't mean they can't experience it."
And that is often an eye-opener for the students.
Community, camaraderie, connection
People with disabilities climb for mostly the same reasons that able-bodied people do, Sala says. "It's a huge, huge physical component, huge mental component. And then there's the community aspect, the camaraderie, the trust that you have to have. You're literally holding each other's lives in your hands. There's a lot of connection that is made with climbing."
Boulder, Colo.-based nonprofit Paradox Sports, operating since 2007, helps fitness facilitators to connect adaptive athletes with the climbing community. Since many people first experience the sport of climbing through a gym, hosting a course can help draw new memberships, as well as encourage diversity in the climbing community, the group says. Attending a course is an opportunity for guides, students, climbing facilitators and recreational climbers to improve rapport and approachability with people of different backgrounds.
The Adaptive Climbing Initiative, sponsored by adventure apparel and equipment manufacturer The North Face, is just one of several services that Paradox offers, and it benefits many different groups, Sala explains. According to the Centers for Disease Control and Prevention, 61 million U.S. adults (one in four) live with a disability, and if you're not thinking about them, you're leaving a lot of people out of your facility or fitness concept.
"At the moment, there's a large percentage of climbing gyms where if somebody were to roll in, in a wheelchair, and say, 'I want to climb, but I can't use my legs,' a lot of those gyms would be like, 'We don't know what to do.' " Sala says. "Our mission is to get it to a place where as many gyms as we can possibly get can facilitate adaptive climbing."
The two-day ACI course includes a classroom learning portion, discussion and on-the-wall, hands-on training for trainers, instructors and facility managers. ACI students learn techniques on how to adapt climbing for various abilities, plus get access to adaptive equipment.
Since 2013, Paradox has held ACI training at more than 100 climbing gyms, organizations and universities in 35 states, plus an event each in Canada and Finland, according to the organization. Most recently, Sala helped teach a group at Winona State University in Minnesota.
"Their first day, they had like 18 people show up," Sala says. "I think they're one of those organizations that's going to have a really high success rate with their adaptive community just because their staff was super psyched, and they did a ton of community outreach. The community members who came in were really psyched, so they're going to leave and tell all their friends — who may or may not have disabilities."
Know their dog's name
"One of our big catchphrases that we use a lot in our ACI training is: 'Partners, not passengers,' " Sala says. He explains that three of the most basic lessons Paradox teaches that any instructor can do when working with people with disabilities is to speak directly to them, build rapport and don't make assumptions.
"If you see somebody with one leg and you walk up and you go, 'Hey, how'd you lose your leg?' They might be a veteran, they might have some PTSD, there could be all kinds of different things that you just unlocked that they weren't ready to deal with on the spot," he says. "I tell people to build rapport. If you're interested in finding out about somebody, and how they lost their leg, know their favorite color first. If you don't know their dog's name by the first day, if you don't know something more personal about them than their name and how they lost their leg, I tell people, 'You're doing it wrong. Make it about the person, not the disability.' "