Testing student-athletes for drug - or anything else - remains thorny work.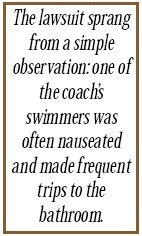 Even though the U.S. Supreme Court, in Vernonia School District v. Acton [515 U.S. 646 (1995)], held that the random testing of high school student-athletes for drugs could be found reasonable and constitutional, it cautioned other school districts against assuming that all drug-testing programs would readily pass constitutional muster.
In reality, however, the growing number of school-based drugtesting programs and subsequent legal challenges of them have shown that Vernonia sets a strong precedent.
In most of these cases, the courts have ruled that students participating in extracurricular activities or driving to school may be subject to random suspicionless testing for drugs and alcohol. For example, in Joy v. Penn-Harris-Madison School Corporation [212 F.3d1052 (7th Cir. 2000)], the school failed to demonstrate a special need for testing (there was no pervasive drug problem), yet the Seventh Circuit Court ruled that the school district's drug-testing policy was constitutional.
In reaching its decision, the court determined that it was bound by stare decisis-the legal principle that a court of the same or lower rank in subsequent cases presenting the same legal problem will follow decisions from earlier cases-to find the policy constitutional.
Vernonia has not proved, however, to exhibit much sway when its precepts are extended to other related areas. Gruenke v. Seip [225 F.3d 290 (3rd Cir. 2000)] offers a particularly good example. The suit sprang from a simple observation: Michael Seip, the Emmaus (Pa.) High School swim team coach, observed that one of his swimmers, Leah Gruenke, was often nauseated, made frequent trips to the bathroom and complained about having a low energy level. In addition, Gruenke's body was "changing rapidly."
While Seip suspected that Gruenke might be pregnant, neither he nor anyone else associated with the school, including guidance counselors or the principal, ever mentioned anything to her parents, even when the girl's father commented to Seip that Gruenke's racing times had gotten slower. Instead of consulting with the girl's parents, Seip openly discussed the possibility of Gruenke's pregnancy with her teammates, her teammates' mothers, the assistant coaches and a guidance counselor.
In an effort to learn whether Gruenke was pregnant, Seip asked first an assistant coach, and then a school guidance counselor and the school nurse, to broach the subject with Gruenke. Gruenke denied to all that she was pregnant, refused to acknowledge ever having had sex, and ultimately refused to volunteer any information on privacy grounds.
Seip then persuaded two of Gruenke's teammates to encourage her to take a pregnancy test. In response, Gruenke wrote a letter to Seip (which he claims he never read), telling him that he had no right to make her take a pregnancy test. Under continued pressure from Seip, however, Gruenke did take a pregnancy test. Gruenke only agreed to do so after Seip, through her teammates, threatened to bar her from swimming in the upcoming state championship meet.
As several teammates observed, Gruenke tested positive. Told of the result, Seip asked an assistant swim coach (a medical practitioner) for an opinion on whether it was permissible for a pregnant swimmer to compete on the team.
The coach advised Seip that swimming would not endanger Gruenke's pregnancy. Gruenke therefore competed-but, according to testimony in the subsequent lawsuit, Seip then tried to alienate Gruenke from her peers. After the baby was born, Seip refused to speak with Gruenke, took her out of several swim meets and told other team members not to sit with her at practices and meets.
Seip's conduct led Gruenke and her parents to file a lawsuit under 42 U.S.C. ß 1983, claiming that the pregnancy test, and the actions surrounding it, constituted an illegal search in violation of Gruenke's Fourth Amendment rights. The lawsuit also claimed that Seip's conduct unconstitutionally interfered with Gruenke's right to privacy regarding personal matters.
The district court granted Seip's motion for summary judgment. The court held that Seip was entitled to qualified immunity either because he had not violated any clearly established constitutional rights, or alternatively, because the Gruenkes' claims did not give rise to the violation of a constitutional right, clearly established or otherwise.
In overturning the district court's decision, the Third Circuit Court of Appeals held that "government officials performing discretionary functions generally are shielded from liability for civil damages insofar as their conduct does not violate clearly established statutory or constitutional rights." If the law is clearly established, however, a court must deny the qualified-immunity claim, "since a reasonably competent public official should know the law governing his conduct"-unless he can either demonstrate extraordinary circumstances or that he "neither knew nor should have known" about the legal right in question.
The appeals court therefore reasoned that it must analyze each of the Gruenkes' claims to determine whether Seip's conduct violated a clearly established statutory or constitutional right of which a reasonable person would have known.
In reviewing the proper legal framework governing Fourth Amendment searches of athletes in public schools, the appeals court held that the district court misapplied the qualified-immunity defense. The district court had reasoned that while the coach's conduct was questionable, there was no legal precedent specifically relating to the administration to a student, by a school official, of a pregnancy test.
Therefore, Gruenke's Fourth Amendment right to be free from the search was not clearly established, and Seip was entitled to qualified immunity.
The appeals court rejected this conclusion; moreover, it noted, a review of current Fourth Amendment law in the public school context reveals not only that the right is clearly established, but also that Seip's conduct as alleged was objectively unreasonable.
"Reasonableness," in a Fourth Amendment context, is determined by balancing the intrusion of the drug test on an individual's Fourth Amendment interests against its promotion of legitimate governmental interests. In conducting this balancing test, courts examine three factors: the legitimate privacy expectations of the student, the character of the intrusion, and the nature and immediacy of the governmental concern.
As the Supreme Court noted in Vernonia, public school students have a reduced expectation of privacy when compared with the public at large. Student- athletes have an even lower expectation of privacy than do their fellow students, because they not only submit to suiting up in communal locker rooms, but also frequently agree to follow certain regulations, such as taking physical exams and acquiring insurance.
The second factor in determining whether a search is unreasonable is the character of the intrusion. A court must examine not only how the drug test collects the samples, but also the type of information being collected.
For example, while a urinalysis test is clearly intrusive (because it reveals personal information), it can be made less intrusive by having students take the test in private. Another way it can be made less intrusive is by tailoring the test so it only reveals illegal or performance-enhancing drugs. Another key issue that impacts the character of the intrusion is who receives the test results and how the information is used. Test results should only be disclosed to those limited individuals who have a need to know-unlike the situation in Gruenke, where a coach openly discussed test results with people who had no right to know.
The final factor to be considered is the nature and immediacy of the governmental concern. In other words, a court must determine whether the state's interest in conducting the drug test is important enough to justify the particular search at hand.
In reviewing these factors, the appeals court held that while a student may not enjoy the same rights of privacy as an adult, there are nevertheless limitations on intrusions by school authorities. One of those limitations would be the administration of a pregnancy test without a legitimate health concern for the mother or child. The Supreme Court made this clear in Vernonia when it held that it would be inappropriate to conduct a drug test to determine "whether the student is, for example, epileptic, pregnant or diabetic."
Absent any legitimate health concern, the appeals court held that the administration of the pregnancy test constituted an unreasonable search under the Fourth Amendment. Despite the lack of specific case precedent, the court found that Seip should have reasonably known that his conduct violated Gruenke's right against unreasonable searches.
The court also rejected Seip's qualified-immunity defense with regard to Gruenke's substantive due-process right to privacy. In reviewing Gruenke's claim, the court held that Gruenke's dueprocess right to privacy fell squarely within the contours of the legally recognized right to be free from disclosure of personal matters. Since the information concerned Gruenke's medical condition, the court ruled, Gruenke's right to privacy was entitled to even greater legal protection.
It is important to note that while the Third Circuit Court of Appeals found Seip's conduct unreasonable, the court noted that there could be unusual instances in which a student, athlete or not, could be required to take a pregnancy test. For example, if a school nurse or another appropriate school official had a legitimate concern about the health of the student or her unborn child, a pregnancy test might be reasonable.
Absent any type of legitimate health concern, however, an official cannot require a student to submit to a pregnancy test merely to satisfy his or her curiosity.