Olympic-style Competitions Boost Senior Programming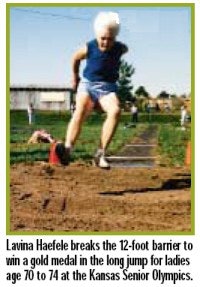 In Kansas, 69-year-old Paul Heitzman once again breaks the tape at the end of a 5K road race. The national leader in the 800meter, 1,500-meter, 5K and 10K distances, he ran his first race after he turned 60. Over in northern California, former Olympic high hurdler Sherrie Sherrard, now in her 60s, is still at the heart of national competition, though she has switched to shot put, discus and softball.
Last year, more than 12,000 senior athletes participated in the Summer National Senior Games. And in February, nearly 250 arrived in Lake Placid, N.Y., pumped up for competition in alpine and cross-country skiing, curling, ice hockey and snowshoeing at the first-ever Winter National Senior Games. But that's not all. Across the nation, 248 local senior games have been sanctioned by the National Senior Games Association, a number that is steadily increasing both for summer and winter competition. As the senior market continues to expand, attention has been turning toward senior games as a way to meet increased recreational needs.
"It's a great way to organize participation of the fastest-growing demographic group in the country," says Marge Rightmeier, director of Kansas Senior Olympics. "It encourages fitness, health and wellness and puts the parks and recreation department in the forefront of preventive programming, instead of the curative program that's offered by so many health agencies."
Seniors can advance to national summer competition from sanctioned games in every state except Alaska. (Since only 12 states offer winter senior games, athletes currently do not have to qualify to advance to winter nationals.) In Kansas, these state games are sponsored by the Topeka Parks and Recreation Department. Events include 17 of the 18 national sports: archery, badminton, basketball, bowling, cycling, golf, horseshoes, race walk, road race, shuffleboard, softball, swimming, table tennis, tennis, track and field, triathlon and volleyball. (The only sport missing is racquetball.) The lone qualification is that participants must be 50 years or older.
"Some of the larger states require that their athletes qualify at the local level," says Rightmeier. "We do not simply because we do not have enough local games organized yet in the state of Kansas. If we were to have a minimum of six local games fairly evenly distributed across the state, all athletes would be required to qualify for state games by competing in local games."
In California, seniors must compete at the local level to be eligible for the state games. Currently, there are 10 summer games and one winter competition, but two more summer games will be added by 2001. The local games attempt to offer all of the national events, but nonqualifying events vary by location. Pasadena, for example, offers power lifting, in-line skating, rope climbing, lawn bowling and billiards. San Diego includes kayaking. Others offer trap shooting or air rifle shooting. In California and elsewhere, many local games are organized by park and recreation departments.
Organizers say the games are ideal for attracting a different segment of the senior population, one they might not reach with other programming. Rightmeier states that while the vast majority of participants in regular programs are women, the senior Olympic competition brings out the men, especially the 50- to 60-year-olds. The games also attract team sport followers more than some other programs, she says. Other organizers say additional participants are drawn to the competition, and particularly the chance to compete at a national level.
The first step in establishing a program, says Cynthia Vaughan, Senior Olympics coordinator for Pasadena, is contacting your state coordinator. As a former state coordinator herself, she worked directly with communities beginning games to guide them step by step through the process of organization. The state coordinator can also provide guidance and advice on achieving the professionalism necessary to become a qualifying event. Contact information is available at www.nsga.com.
The city's next step is to appoint a games coordinator to be responsible for everything from reserving the venues to acquiring funding. A typical local games budget can average $50,000 in California, Vaughan says, so it is essential to check into sponsorships from HMOs, hospitals, retirement homes, banks, investment firms and local businesses. She also warns that the budget must include a separate accident insurance policy and medical coverage, along with T-shirts, medals, printing, postage, results books, permits and so forth.
Another key task is finding sanctioned officials and designating event coordinators for each particular sport. Games coordinators can rely on an event coordinator to know or learn all the regional and national rules for a particular sport, organize participation and run the event on game day. These coordinators may be community center directors, athletic directors, recreation professionals, coaches, officials, teachers or athletes - anyone who is responsible and familiar with the sport. It is particularly valuable, according to Vaughan, to recruit those who have experience with seniors, since rules and temperaments can be different for older adults.
In many cases, organizers suggest, it is best to start with just a few sports the first year and gradually increase the offerings as interest increases. And in all cases, it helps to be prepared for the worst - seniors overtaxing their bodies, coordinators backing out, weather changing suddenly, or participants complaining about refereeing or conditions. And of course, it is essential to promote the events in any way possible, and especially beyond the community centers and long-term care facilities - through word of mouth, sports leagues and community postings.
"It's great to get publicity, but not necessarily by putting flyers out at every senior center," says Vaughan. "The people who participate in this are not normally people who spend a tremendous amount of time in senior centers. They're the people who are playing tennis three times a week or swimming every morning or walking. It's a different population."
The competition in Sarasota, Fla., certainly has reached an eager audience. Only in its fifth year, the games last year attracted 600 athletes, many of whom registered for more than one event, for a total of 1,200 entries. According to Carolyn Brown, parks and recreation supervisor and Games for Life coordinator for the Sarasota Parks and Recreation Department, one of the biggest benefits of the program is bringing the senior athletes back year after year and enabling them to connect with one another. She notes the friendships that develop among the athletes and the bonding between those just venturing into a sport and those who are more experienced, who often offer advice and training tips. It's a perfect combination of social interaction and competitive spirit.
"It's a wonderful event to not only provide athletic competition, but to provide camaraderie and socialization," says Brown. "It adds to the dimension of senior programming. Many times, much of the senior program is geared more toward passive recreation than active recreation. This encompasses a whole different population."