Changing Communities Call for More Varied Therapeutic Recreation Planning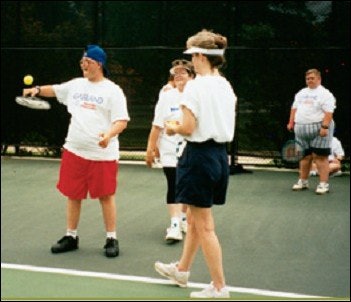 Although therapeutic recreation programs in municipal parks and recreation departments are not a new concept, they are an evolving one. Started as a service to cognitively disabled community members, therapeutic recreation has developed over the years to meet the demands of people of all ages with a wide range of mental and physical limitations.
The therapeutic recreation division of the Montgomery (Ala.) Parks and Recreation Department, for example, not only offers diverse programming, it does so out of a recreation center open only to people with disabilities. Purchased by the department in the early '70s, the 26,000-square-foot facility is barrier-free and features a large gymnasium, indoor and outdoor swimming pools, a weight room, a game room, meeting rooms, locker rooms, a kitchen, four tennis courts and a fully accessible playground area. Wellness programs, wheelchair sports, swimming lessons and the Special Olympics are just some of the programs provided at the center.
Fredrick Thomas, certified therapeutic recreation specialist for the department and director of the Montgomery Therapeutic Recreation Center, says the facility serves more than 4,000 people a month, although that total includes those who use the facility for meetings and social or support clubs. (To use the center, members of these groups must either have a disability or work with individuals with disabilities.)
Thomas says that aquatic therapy is the fastest-growing therapeutic recreation program in Montgomery. The recreation center offers three aquatic therapy classes in the morning, two in the afternoon and two at night, and they're all filled to capacity, according to Thomas. "Aquatic therapy has really opened up doors for individuals with disabilities," he says. "A lot of these individuals experience pain during land-based exercise."
Montgomery's offerings are advanced when compared to most other parks and recreation departments. "This is a rarity," says Thomas. "To my knowledge, our therapeutic recreation program is the only one in the South like this, with the diverse programming we have. Other parks and recreation departments that have a therapeutic recreation division often have to share an existing community center."
That's exactly what the Garland (Texas) Parks and Recreation Department's therapeutic recreation division does, offering almost all of its programs out of one of the city's five recreation centers. The division itself began less than 10 years ago, and Heather Lambert, therapeutic recreation coordinator for the city's recreation department and the only full-time therapeutic recreation staff member, says the program is continually growing. The division currently runs an extensive year-round Special Olympics program, which offers track and field, basketball, bowling, cycling, golf, soccer, softball, swimming, tennis and volleyball.
In addition to specialized programs, inclusive programming is also offered. For example, a recent summer camp, titled S.U.M.M.E.R. (Special Understanding Means Meaningful Experiences in Recreation), was held for kids ages eight to 15 with all types of physical and mental limitations, but siblings and friends without disabilities were also encouraged to attend. The camp consisted of both indoor and outdoor games, swimming, and arts and crafts activities. Lambert says that inclusion is more a part of therapeutic recreation programming than ever before, with about 25 to 30 percent of Garland's programming inclusive.
Garland's programs have also grown in participation numbers. "We have people coming to Garland for this program from every city within a 45-mile radius," Lambert says. "It amazes me how many phone calls a day we get from new people who are interested in our programming, and they're not just participants, but volunteers, too."
Volunteers are an important part of Garland's therapeutic recreation program. At a recent dance for youths with disabilities, 20 volunteers helped decorate, prepare food and chaperone. Lambert enlists the help of teenage volunteers for summer camps, and most of Garland's Special Olympics coaches, referees and officials are volunteers.
The therapeutic recreation section of the Alexandria (Va.) Department of Recreation, Parks & Cultural Activities also works with volunteers, but has three full-time and six part-time staff members, as well. Although it shares space in existing city-owned recreation centers, that doesn't stop administrators from continually trying to expand and diversify their programming.
For instance, last winter marked the inaugural season of an inclusive program called "Youth Opportunity Sports," which was implemented with assistance from the Alexandria public schools. The first season was an eight-week-long basketball program, which was held every Sunday for two hours. A varsity girls' basketball team from one of the public high schools organized activities and taught basketball skills for the first hour, then set up scrimmages for the second hour. "Youth Opportunity Sports had a float in a local parade, and the varsity girls helped out with the float," says Bill Dwyer, therapeutic recreation supervisor for the Alexandria recreation department. "It's a great opportunity for everybody, including the participants without disabilities."
Of the 26 youths ages six to 18 who participated in the basketball season, most of those without disabilities were siblings of those with disabilities, Dwyer says. As the program progresses, however, he hopes to see even more interaction between kids with and without disabilities. The second season of Youth Opportunity Sports kicks off this month with a soccer program, and a local high school girls' varsity soccer team has agreed to attend the workshops.
Alexandria not only offers programs for youths, it also offers a dance and movement class for adults with neurological impairments. The program focuses on improving balance and coordination, and is designed to be the next step after participants leave rehabilitation.
Many of Montgomery's programs also focus on helping newly released rehab patients. "We are a program that does community reintegration," says Thomas. "We help individuals get back into the mainstream of society. A lot of people come from rehab settings, so they come here to either build upon what they've been working on in rehab or to try to maintain what ability they have."
Even though many therapeutic recreation programs offer specialized activities, many also encourage people with disabilities to participate in regularly scheduled recreation activities. For example, if individuals with disabilities want to participate in a swimming class in Alexandria, they can meet with a staff member in advance to discuss any additional assistance they may need, and the staff member will work with them to try to meet their requests. In the two years that the department has been advertising this service, however, there have been very few requests from adults. "That doesn't mean adults with disabilities aren't participating in our programs," says Dwyer. "They're just doing it independently of us. Whether they're working out with weights or using the pools, they just don't feel they need assistance."
Faced with continually shifting trends in therapeutic recreation, the one thing programmers can count on is that there will always be a need for new and different therapeutic recreation programs. "The younger generation almost expects to have recreation opportunities," says Dwyer. "People who are in accidents who have injuries or become disabled will demand to stay involved in recreation."