Introducing the Winners of the Second Annual Excellence in Youth Sports Awards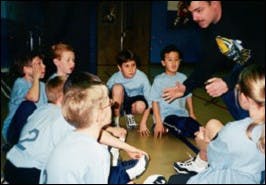 Great strides have been made in youth sports programs in recent years. More organizations than ever before - municipalities, clubs, independent associations, churches and other groups - now offer some kind of athletic and recreation opportunities for their communities' young people. And a set of recommended guidelines, developed this year by the National Alliance for Youth Sports and available free to all youth sports administrators, seeks to make programs even better by educating parents and coaches and holding them accountable for their actions. The hope is that these guidelines will significantly curtail - if not end - such ugly incidents as parents sparring with coaches and the public verbal abuse of children.
Several organizations already administer exemplary youth sports programs that stress sportsmanship, fitness and fun through their commitment to kids and proper training of parents, volunteer coaches and youth league administrators - and they deserve recognition. That's why NAYS and Athletic Business annually invite well-run programs to enter the Excellence in Youth Sports Awards competition. Now in its second year, the competition drew 85 entrants, nearly twice as many as in 2000, with applications arriving from all over the world. Developed by NAYS and Athletic Business, the awards recognize outstanding organizations that conduct multifaceted youth sports programs with a focus on providing positive and safe experiences for all participants. A panel of judges reviewed each application.
This year's winners, in alphabetical order:
• Boys & Girls Club of Ellsworth Air Force Base, Ellsworth AFB, S.D.
• Falcon Trail Youth Center, U.S. Air Force Academy, Colorado Springs, Colo.
• Moody Air Force Base, Ga.
• City of North Miami (Fla.) Parks and Recreation Department
• Oregon (Ohio) Parks & Recreation Department
Online sports community coordinator Youth Sports USA (www.ysusa.com) will contribute $5,000 to each winner, money that will go toward further enhancing youth sports programming in these communities. Basketball legend Bill Russell, winner of 11 NBA championships in 13 seasons with the Boston Celtics, presented the awards last month at the Athletic Business Conference in Orlando, Fla.
The following pages feature brief profiles of the five winners, including details about why their programs are so effective.
Boys & Girls Club of Ellsworth Air Force Base, Ellsworth AFB, S.D. U .S. Air Force regulations mandate that all youth sports coaches undergo training to recognize symptoms of child abuse and perform basic first aid. But when Angie Gadomski took over three years ago as youth sports director at the Boys & Girls Club of Ellsworth Air Force Base, she pushed the importance of these precautionary measures to the next level. "It's a problem in society," Gadomski says. "So let's handle it."
She introduced videotapes and handouts that help ensure coaches recognize the signs of an abused child and know how to report abuse through the base's chain of command. A privacy policy protects coaches' identities in such cases.
Meanwhile, in addition to undergoing the Air Force's first-aid training, Ellsworth coaches must also complete a blood-borne pathogen training program that makes them more aware of the importance of hepatitis B immunization and the prevalence of blood-borne/airborne diseases in kids' daily lives. Each coach also maintains the immunization records of all participants. "We want our coaches to know that there are such dangers as hepatitis B, and that even though they're trained in first aid, they are still not physicians," Gadomski says. "So they must be careful. It's just one of those things you have to think about when you work with kids."
At Ellsworth, working with kids means more than just renovating soccer fields (an ongoing project slated for completion in 2003) and sponsoring mandatory preseason clinics for all participants. That's why Gadomski implemented a strength-training program for kids and their parents. A generously equipped fitness room (actually a converted racquetball court) is home to trainers from a nearby facility who three times a week help participants develop individual fitness programs. Parental participation is mandatory, and the trainers' pay comes out of the base's youth programs budget.
Gadomski says she got the idea for a parent-youth strength-training program from a seminar at the 1999 Athletic Business Conference. "I was so excited," she recalls. "My notes could not be written fast enough. I told my commander, 'We're doing this.' In no time at all, I got Cybex machines, I got mirrors on the walls, I got a stereo system installed and now it's just awesome."
It's all part of Gadomski's goal to make Ellsworth's youth programs mirror those of what she calls "the real world." By asking for the insight and involvement of everyone from the base wing commander on down, she's constantly looking for answers to the question, "What are we not doing that the real world is?"
That approach also encourages strong volunteerism. Squadron commanders, first sergeants and super visors build flexibility into their schedules to allow time to coach or officiate, as well as to attend four annual youth sports banquets. Says Gadomski, "The rank is respected, but these people are also coaches and moms and dads."
Falcon Trail Youth Center, U.S. Air Force Academy, Colorado Springs, Colo. When Eric Burch landed at Falcon Trail Youth Center eight years ago, all was not well with the state of youth sports at the U.S. Air Force Academy. A fierce sense of competition pervaded the programs, he recalls, and fights in the stands at basketball and hockey games weren't uncommon. "One father hit a mother in the mouth at a hockey game, and they weren't related," says Burch, the center's youth sports director. "And one time, I had a riot in my gym."
Among Burch's first efforts to curb the problem and foster a noncompetitive environment was to discontinue the academy youth center's affiliation with a competitive hockey program, which now operates as a separate entity. "The supporters of competitive hockey didn't think I would have a program if I did that," Burch says. "I told them there are a lot more 13- to 15-year-olds out there who want to learn how to play hockey than who know how to play hockey."
And he was right. Ice hockey is among the most popular youth recreation activities at the academy. But unfortunately, because games and practices take place at an arena inside the cadets' compound, this year's season was scuttled in the wake of the Sept. 11 terrorist attacks. "The Air Force feels that the cadet area is at greater risk for an attack than other areas of the academy," Burch says. "And we don't want kids playing there."
Burch says he refunded thousands of dollars in entrance fees to players and their parents who had signed up for the 2001 season. "It's a big moneymaker for me," he adds. "This killed my budget."
In an attempt to make the stands safer and more enjoyable for spectators, Burch and his staff developed a yellow- and red-card system. If a parent gets out of hand and, say, begins verbally abusing a coach, player or fellow spectator, any member of the youth sports staff is encouraged to issue that person a yellow card, which contains a printed warning to the recipient that his or her behavior is unacceptable and that if it continues, he or she will be asked to leave the facility or the grounds. A red card requires its recipient to vacate the premises within 60 seconds or else the matter will be turned over to academy security. "It keeps me from having to say anything that might provoke a confrontation," Burch says, adding that no one has ever received a red card.
Youth sports administrators at Falcon Trail also keep themselves in check by administering parent and youth satisfaction surveys, which let participants appraise programs and coaches. While parents' surveys are more detailed, the kids' surveys feature three possible responses - a smiling face (excellent), a straight face (good) and a frowning face (poor) - to such statements as "My coach was fair to me," and "I made new friends." In surveys conducted during the past year, no youth participants rated their playing experience below a straight face, and 85 percent of them answered with a smile.
Moody Air Force Base, Ga. Although its participant numbers are still relatively small, Moody Air Force Base's youth sports program has increased participation during the past two years - thanks to several grants and special projects.
In 1999, the base received a $1,000 Nike Girls Sports grant, which was used to develop girls' soccer and softball programs. The grant application that Moody program officials submitted to Nike was among the first of its kind for the base, but it certainly won't be the last. "When you do your first grant proposal, you begin to realize there are a lot more grants out there," says Kelly McConnell, Moody's youth programs director.
Indeed, the base later teamed with the Valdosta (Ga.) Parks and Recreation Department to receive a $5,000 grant this year from RBI (Reviving Baseball in Inner Cities), a collaboration with Major League Baseball and the Boys & Girls Clubs of America, to purchase much-needed equipment for boys and girls ages 13 to 18. Moody AFB also was given a $1,000 grant from the National Football League to begin a flag football league. In past years, McConnell says, interest in football (tackle and flag) had waned. But she was hoping the grant money and a base-sponsored fundamentals clinic (in conjunction with coaches at Valdosta State University) would kick up some increased interest in the sport.
Meanwhile, NAYS provided Moody with free equipment in April to help it become a trial site for the alliance's Start Smart Sports Development golf program, enabling the base to institute another new program.
Moody also teams with the nearby Boys & Girls Club and the Valdosta Parks and Recreation Department to encourage children from military families to sign up for teams sponsored by the department and other organizations, McConnell says. And earlier this year, youth administrators at the base trained about 35 coaches from the department using a program outlined by the National Youth Sports Coaches Association. The move proved successful, and the department is now certifying its own coaches using the training program.
Another community-relations coup for Moody is its recent partnership with a local middle school, which began its first tackle-football program after the base sent some of its military personnel to volunteer as coaches at the school.
In addition to creating new sports, accepting grant awards and fostering a sense of community spirit, Moody recently renovated parts of its youth sports complex by building a new batting cage, sodding one of its three ballfields and installing a new sprinkler system.
City of North Miami (Fla.) Parks and Recreation Department Operating a youth sports program in the inner city is rife with challenges, not the least of which is keeping kids motivated to participate when they have so many other temptations swirling around them. To meet that challenge, the North Miami Parks and Recreation Department takes a two-pronged approach: Keep user fees for its 20-plus programs low, and pay head coaches - all of whom must undergo mandatory local, state and national background checks - between $6 and $8 an hour.
That's not always easy, considering the city council keeps the department operating on an annual budget of less than $600,000, which also covers two adult programs and park maintenance. But the payoff is worth the price. "We put a lot of responsibilities on our coaches, and by paying them, we have a solid group returning every year," says Ron Bell, athletic coordinator for the department, adding that most head coaches put in an average of 13 hours per week during the season. "They know our philosophy, and they buy into it. These are not people who just want to coach their own kids or live out their childhood dreams."
Dreams are all some program participants have, Bell says. North Miami's Parks and Recreation Department sponsors many more instructional clinics - based on NAYS' Start Smart Sports Development Program, often using coaches instead of parents - than it does competitive leagues, giving the greatest number of kids the opportunity to participate. "We really stress opportunities for all kids," Bell says. "We don't have tryouts, and everybody gets equal playing time. Everybody plays at least half of every game."
An arrangement with local elementary and middle schools has resulted in popular after-school basketball programs supervised by the schools' physical-education teachers, who are also paid a stipend from the department. Up to 300 kids participate in each of the winter and spring leagues, and another 200 middle school students take part in free, year-round Inner-City Games, sponsored by the National Inner City Games Foundation and its South Florida affiliate.
By creating these partnerships, the department has been able to make the best use of its limited resources. "The number of programs and participants has increased tremendously over the past five years," Bell says. "But we basically have the same budget we did back then."
Most activities (save the after-school programs) take place at two of North Miami's three major parks, which house Little League baseball fields, large multipurpose fields, basketball courts, handball and racquetball courts, and a supervised inline skating rink. All coaches for these activities are managed by "recreation leaders," former coaches promoted to a $9-an-hour permanent position that demands roughly 29 hours each week - much of that time in the evenings and on weekends, Bell says, so recreation leaders can also maintain another full-time job. "It's a great incentive for coaches who want to stay involved," he says.
Oregon (Ohio) Parks & Recreation Department Many youth sports programs preach the importance of having fun, but unfortunately not all of them practice it. The Oregon (Ohio) Parks & Recreation Department has all but incorporated having fun into its official mission statement. "We in adult society have lost sight of just playing the game," says Doug Joyce, the city's parks and recreation director. "After a game, coaches and I will often go up to kids and ask them how they did. Invariably, the parent says, 'We won,' or 'We lost.' And I just look at the kid and tell him, 'I don't care if you won. Did you have a good time?' And he'll say, 'Yeah, I hit the ball!' The parent sort of steps back then and lets the kid talk. We've made a point of encouraging the children to talk, not the parents."
The Oregon Parks & Recreation Department publishes a manual for parents but has made a point of not implementing some method of formal training - either through the NAYS' Parents Association for Youth Sports or another program - because "I'm afraid that we'll lose kids whose parents can't come to the meetings because of previous commitments," Joyce says. "And if we make it voluntary, is the troublesome parent really going to come?"
While the department grapples with that challenge by seeking advice from other communities' youth sports directors, it also breaks from the pack by offering basketball and softball programs at the high school level. Designed for players who either don't make their school teams or prefer a lower level of competition than the interscholastic experience provides, these players - almost 225 between the two sports last year - operate independently with no formal coaches. Players choose their own teams and sign up through the department. At least one parent volunteers to oversee each team, and adult referees and umpires officiate the games. According to Joyce, these programs teach responsibility and prepare kids for college intramural programs and workplace sports leagues.
With the success of its municipally operated programs, Oregon (population: 20,000) remains one of the few communities in the country to offer youth recreation programs sponsored entirely by the city - and not augmented by private associations or spinoff groups. "We're sort of a throwback to the '60s, when almost all recreation programs were funded by cities," Joyce says. He adds that his city's annual budget for youth and adult recreation hovers between $600,000 and $700,000 - although the adult programs are moving toward self-sufficiency. "The mayor and the city council fully understand the magnitude of recreation, and I think that's why they keep getting reelected. This city has always put money into these programs and run them well. The people like it, and there's no need to change it."