Former landfills are finding new life as park and recreation amenities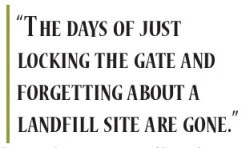 According to David Smith, the best all-around views of the Niagara, Ontario, region aren't from the famous falls bordering upstate New York or from the 146th-story observation deck of Toronto's 181-story CN Tower. Instead, he prefers the view from 630 feet above sea level, atop a hill of waste in Glenridge Quarry Landfill.
"When you're on top of this thing, you can see across Lake Ontario and the skyline of Toronto. On a clear day, you can see Skydome and the CN Tower," says Smith, waste management engineer for the Regional Municipality of Niagara. The regional authority manages 14 landfills (five open, nine closed), including the Glenridge facility in St. Catharines, 35 miles from Toronto. "Looking to the east, you can see the mist of Niagara Falls, which is less than 10 miles away. And then south, you can see the rest of the Niagara region."
As recently as last winter, few (if any) individuals would have dared mingle among the filth and odor of the Glenridge landfill to partake in such a view. But Smith believes that by as early as spring 2004, thousands of tourists and area residents will be making their way to the 110-acre site. That's because the 26-year-old Glenridge landfill, which closed last Dec. 31, is being redeveloped into the Glenridge Quarry Naturalization Site. Upon completion, the passive park will include an extensive trail system featuring seating areas and interpretive stations, a large pond, a children's science and nature area with an outdoor classroom, a heritage arboretum and several scenic overlooks.
By the time those amenities are a reality, the Glenridge site will have experienced significant changes. This past summer, a compacted clay cap was laid over 43 acres of waste. The cap averages 2 to 3 feet in thickness, but extends 8 feet deep in some spots. Also in place is a gas collection system, designed to safely capture methane gas that will be emitted by buried waste for the next few decades. Future plans outline the expansion of that underground system to enable it to produce electricity.
In the meantime, the focus is on the site's aboveground features. Construction documents are being finalized this month, and first-phase work on the site's trails and buildings is slated to begin in January. Then, one year and $1.7 million (Canadian) later, Smith expects the former dump's transformation into a recreation area to be virtually complete.
"The days of just locking the gate and forgetting about a landfill site are gone," says Smith. "People recognize that land is valuable. Why not do something good with it?"
Affording expensive land can certainly be difficult for park and recreation departments, especially in the desirable northern California region. That's why officials with the Sacramento Parks and Recreation Department jumped at the opportunity to develop a property already owned by the city into a regional destination park. In July, one of the city's oldest landfills - a 172-acre midtown site along the American River - became Sutter's Landing Park, the newest addition to Sacramento's park system.
"Clearly, it's a valuable piece of property," says Alan Tomiyama, marketing and public affairs director for Sacramento Parks and Recreation. "The city could've gotten rid of the site if it had wanted to, but city council and other staff firmly believe that it is something the city should keep. It was the location where John Sutter landed and founded the city of Sacramento. There's a lot of history there. Someday, it could be the gateway to the heart of Sacramento, like Golden Gate Park is to San Francisco."
That is, of course, if community input guides the park's development in that direction. Neighboring the site to the west and east are residential areas, while downtown Sacramento sits adjacent to the park's south side. "We aren't in a rush to make decisions on its future," says Tomiyama. "Since it's such a huge acreage literally in the heart of the city, we wanted to take our time working with the community to map out its destiny."
Currently, only 52 of the park's acres have been developed, including a jogging path to the American's riverbanks, picnic areas and paved parking areas. Further development of Sutter's Landing is on hold, for several reasons. While cost is certainly one key factor, Tomiyama says protecting the city's waterways takes even greater precedence. City officials are exercising caution in the park's development, so as not to somehow leach buried pollutants into the American River or disturb an existing levee.
In addition to working with the city's public works department, Sacramento Parks and Recreation has teamed with a number of regional and national agencies, including California's water resources department, the U.S. Army Corps of Engineers and the federal Environmental Protection Agency. "We're in a floodplain and because the site hugs the levee, a lot of work is being done to ensure the riverbank's security," says Tomiyama. "If we do a lot of construction there, we don't want to jeopardize the river by creating some problems later on."
Concerns about the water system also played a major role in decisions surrounding the redevelopment of the Eastview landfill in Guelph, Ontario. The landfill is tentatively scheduled to close by next fall, and the two leading end-use proposals for the 200-acre site include a community park at a cost of $3.2 million (Canadian) and a driving range/miniature golf course, which is expected to run anywhere from $5 million to $6 million.
However, the golf course proposal is quickly losing ground, says Andrew Goldie, manager of administration and development for the Guelph Community Services Department, because of public fears that the course would (because of irrigation demands) diminish the city's drinking water supply, which is collected from underground springs. "Throughout the summer months - and we had a very hot summer - there were watering restrictions," he says. "Do we want to be developing an end use that is a large consumer of water? We don't want to be depleting our water supply down the road."
Some Guelph residents are also fearful that an extensive irrigation system would increase the demands upon whatever cap is placed over the Eastview landfill. According to Goldie, they worry that water might infiltrate the cap, creating more leachate that would have to be collected and removed from the site.
It's difficult, though, for city officials to completely forego the golf course option. Plans for an 18-hole course have already been ditched, and it's anticipated that even the smaller-scale golf development would net the city about $200,000 a year. On the other hand, operating a community park is estimated to cost the city $150,000 yearly, with no incoming revenue to counterbalance that figure. Ultimately, city officials will have to find a way for the financial and environmental concerns to meet halfway. "We have a very environmentally active group here in town," says Goldie. "But a number of the councilors want to investigate more of a revenue-generating end use of the landfill. Currently, we're in a holding position."
Which is OK, says Goldie, because a number of things still need to take place before Eastview's closure. Final decisions on where and how Guelph's waste will be disposed have yet to be made. Goldie says city councilors are pursuing plans to build a new waste transfer facility next year. Documents outlining closing procedures and end-use plans for the landfill also must be filed with the provincial ministry of environment and energy.
Patience is necessary for any municipality considering the redevelopment of its closed landfills. According to Tomiyama, Sutter's Landing Park is still 20 to 30 years from full development. Based on community input thus far, it's expected that the park will eventually add sports fields, sand volleyball courts, basketball and tennis courts, horseshoe pits and playgrounds, as well as a more extensive trail system that will link to other city trails and those in nearby Roseville. Also up for possible development is a warehouse structure on the site that was saved from demolition. ("It's as large as an airplane hangar," says Tomiyama. "The ceiling must be at least 70 feet high.") Tomiyama envisions that building being used as an indoor skate park, a fitness center or even a medium-sized arena. "The sky's the limit on what could be developed there," he says. "But that's probably after I'm retired."
Smith won't have to wait nearly that long to see the end result of the Glenridge landfill's makeover. As next spring dawns, shoots of wild grass should be peeking out of the six-inch layer of planting material that covers the undulating clay cap. It's hoped that the layer's naturalized contours will help create an enjoyable experience for the site's first-time and return visitors.
But those most anticipating the park's opening are its neighbors. In addition to nearby residential areas, adjacent to the site are a hospital and a hotel. "This thing took years to come to this point. The people who live and work around the landfill wanted to see it closed," says Smith. "The neighbors are ecstatic about this end use. Some of the new buildings that they're building at the hospital are being oriented so that they have views of the park. The hotel is happy because it's going to draw tourists to the area. We not only see this as a community feature, but also as a regional attraction."