In the academic competition realm, trouble with magnetic schools.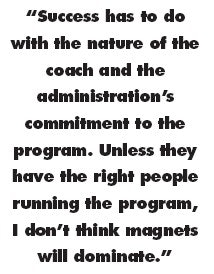 Football gets most of the headlines in Texas high school activities, but believe it or not, the state's academic championships were the center of a small controversy last spring. Yirong Shen, a student at LBJ High School in Austin, captured first place in the science, physics and chemistry competitions, tied for first in biology, finished second in math and was a member of the winning math and science teams and the third-place computer science team. Largely as a result of Shen's achievements, LBJ won the Conference 4A state academic team championship, compiling 69 of its 89 points in the math and science contests.
Two facts trouble some Texas school administrators, particularly those at competing schools - LBJ is Austin's math and science magnet school, attracting top math and science students from all over the city, and Shen (now a Stanford University student), who was one of those students, lived outside LBJ's attendance zone. The school that he would have normally attended, Austin High School, competes in Conference 5A, not 4A.
Such is life in the era of choice (see "Choose...and Lose?" Dec., p. 43). If magnet and charter schools drew scant attention in last month's feature story, it's because such schools are created for academic, not athletic, reasons. No one has developed, as Voie Coy, executive director of the Arizona Interscholastic Association, quipped in that story, "a charter school that specializes in basketball."
But the Texas University Interscholastic League's sponsorship of academic competitions makes magnet schools problematic for the association. The Texas University Interscholastic League Foundation sponsors 22 academic contests, plus a one-act play contest, annually awarding $600,000 in academic scholarships to students who compete at the state level. The UIL claims annual participation in the range of half a million students, although somewhere between 3,000 to 5,000 a year compete at the state meet.
"Kids prepare for it all year long," says Bobby Hawthorne, the UIL's academic director. "And you know, they don't go out and hit each other like in football, but the purity of the competition is every bit as strenuous as anything else that UIL does, athletically or otherwise."
So, in fact, Hawthorne was not surprised when the complaints starting rolling in after LBJ's victory last spring.
"It's happened before in the larger 4A and 5A conferences, and I've gotten quite a few complaints from opposing teams," Hawthorne says. "Fort Worth Dunbar, which has the government magnet, won the 5A team championship a couple of years ago. Two other magnets, Sugarland Elkins and Lubbock High School, have placed well in the past. After LBJ, though, I got several notes and calls where people were saying, 'It's about time you guys started doing something about this.' "
Accordingly, the subject was broached at a meeting of the UIL's legislative council in October. Hawthorne says the council merely discussed the problem and hasn't even begun to consider solutions. They have been hindered, he says, by the Texas Education Agency's inability to positively identify which schools are magnets. But with state law changing last year to allow charter schools - some of which are certain to be developed specifically for high-performing students - it's clear that some solution will have to be found, and soon.
"State legislation is pending that would allow private schools to join UIL and participate in UIL tournaments," Hawthorne says. "What we may have to do is come up with a separate category for private schools, charter schools and magnet schools."
It's a problem that may soon spread beyond Texas' borders. The Virginia High School League, which sponsors several academic achievement awards programs, is adding an academic competition for the 1997-98 school year, although the contest will not be broken down into individual subject areas. Still, Bob Button, the coordinator of the VHSL's academic program, says they've already begun to consider potential problems with magnet schools.
"Thomas Jefferson High School for Science and Technology, in Fairfax County, draws the most talented academic students from throughout the suburban Washington area, so it's kind of a magnet school," Button says. "They have 150 national merit scholars every year. There are other magnet schools and other so-called Governor's Schools for high-ability students, and there's a concern that those schools will dominate."
Button, though, isn't convinced the magnets will attract all the trophies.
"Our competition will be composed of teams of at least four and not more than eight students, and almost any school can come up with that many very talented students," he says. "Also, my experience tells me that program success has to do with the nature of the coach and the school administration's commitment to the program. Unless they have the right people running the program, I don't think they will dominate."
"I just don't think it's fair for a school that draws students out of a limited area to have to compete with a program that includes almost every top science and math kid out of the whole city of Austin," counters Hawthorne. "There's just a fundamental unfairness there."
UIL administrators aren't trying to take anything away from Shen, clearly one of the state's most talented students. But many believe he should have competed against 5A students.
"It's just a matter of equity," says Hawthorne. "You want to compete under the same ground rules as anybody else, and when one school basically can pick and choose the kids it wants to have on its team, they have a significant advantage over everyone else.
"This problem is not going to go away, I'll tell you," he adds. "It's the smaller schools who are really complaining. And they ought to be, because their kids don't have the same scholarship opportunities as the magnet school kids."