Ringling Bros. and Barnum & Bailey promotes its CircusFit program for use in schools, fitness centers and youth groups.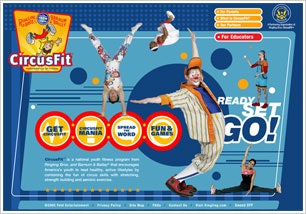 As it travels from city to city, "The Greatest Show on Earth" continues to wage an earnest war on girth.
Citing U.S. Centers for Disease Control and Prevention statistics that indicate that the number of obese children and adolescents has more than doubled over the past 20 years, Ringling Bros. and Barnum & Bailey® continues to promote its CircusFit program for use in schools, fitness centers and youth groups.
"At Ringling Bros., we know that youth will exercise longer if their workouts seem less like a strict regimen and more like a three-ring circus!" reads a statement at www.circusfit.com. The web site, active since 2005, offers educators and parents five downloadable learning modules whose interactive video and print materials combine science-based health information with physical movement. Lessons are flexible enough to be used sequentially or randomly while accommodating virtually any size group or budget.
The 20-minute workouts incorporate simple materials such as plastic drink bottles and jump ropes. Peggy Williams, the one-time clown who helped design the program, makes jugging balls by filling balloons with birdseed at roughly 12 cents apiece. "Juggling is calming, and it's great for upper-body strength, hand-eye coordination and breathing," Williams told The Dallas Morning News when the circus came to town last summer. "It's hard to carry a swimming pool around. But I can juggle every day. And if I don't have my juggling balls, I roll up my socks and juggle them."
The program proves that physical fitness role models don't have to take the form of professional athletes. CircusFit promotes the show's highly conditioned acrobats, clowns, and high-wire and trapeze artists as "performer-athletes" who, naturally, are nothing short of "awe-inspiring."
Piloted in 2003, the program landed on the Internet two years later and has since attracted fans among scout troops and YMCA groups. It now counts among its official partners The President's Council on Physical Fitness and Sports, the Boys & Girls Clubs of Greater Washington and Fitwize 4 Kids.