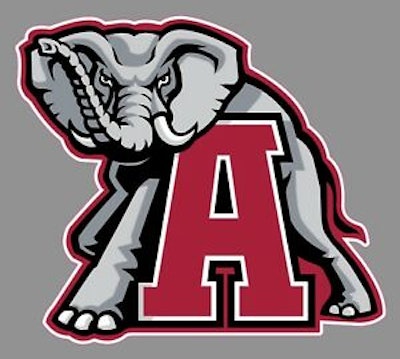 University of Alabama president Stuart Bell has joined a growing chorus of critics regarding the City of Tuscaloosa tax policy that has effectively shelved the Crimson Tide's plans to serve alcohol at sporting events.
Once the university made those plans public, the city unveiled a policy that would translate to ticket price increases of $1 per ticket for events with crowds between 1,000 and 19,999 people, $2 per ticket for events with capacities between 20,000 and 49,999, and $3 for events with more than 50,000 people.
Related: Alabama Alcohol Sales on Hold Amid New Tuscaloosa Policy
Bell contends that the university already contributes significantly to Tuscaloosa's coffers — more so than most of Alabama's peer institutions provide for their respective communities.
"The University of Alabama supports and appreciates the many public safety officers who work gameday, including UAPD, and City County and State officials," Bell said in a statement Tuesday, as reported by Sports Illustrated.
"UA Athletics and our fans currently pay more in ticket and concession sales taxes than all but one SEC school. Those sales taxes go to support the City, County and State and their officers. The City, County and State also receives significant sales taxes from restaurants, bars, retail outlets and hotels generated by our athletics and campus events. We believe the success of our athletics programs and growth of our university have had a tremendous positive impact on our community.
"The University was surprised by the City's arbitrary service fee. Therefor, the planned new sales at our UA venues will remain on hold as we review the impact this fee could have on our University, Athletics and fans."
Bell's statement came a day after Alabama athletic director Greg Byrne said much the same thing.
"It is very unfortunate that the City of Tuscaloosa's plan would unreasonably target Alabama Athletics and our fans with a service fee on all tickets where alcohol is sold, even tickets sold to children," Byrne said in his statement. "There are so many positive impacts our athletics events — and the University as a whole — have provided that are being discounted, including the extraordinary economic and tax benefits to the city."
According to Byrne, UA currently pays 10 percent sales tax on all ticket sales, 3 percent of which goes directly to Tuscaloosa, representing approximately $1.3 million the city has collected this fiscal year alone. In addition, the university's concessionaire, Levy Premium Foodservice LLC, pays the city 10 percent sales tax on concessions revenue from all athletics events, generating approximately $125,000 annually.