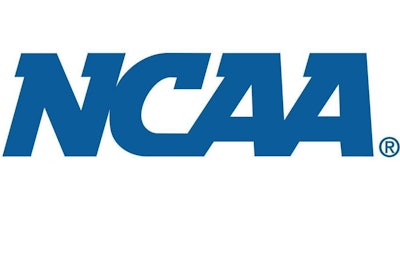 The world changed in March 2020, with no corner of society left untouched by COVID-19. Even the thing that so many look toward for escape — sports — couldn't avoid the havoc of a global pandemic.
The NCAA canceled its championships. Professional sports leagues halted play before ultimately competing in controlled environments. The Summer Olympics paused for a year. Life had changed as we knew it, and sports were no exception.
But slowly sports came back with myriad safety measures to protect athletes. The NCAA convened a panel of experts that provided guidance to its schools in the form of resocialization of sport recommendations. College athletics departments and school leadership tailored these NCAA recommendations for their own campuses in conjunction with local public health authorities. Everyone collaborated for a unique mission: the safe return of NCAA sports during the COVID-19 pandemic.
Mitigation efforts included testing, testing and more testing. Masking on the sidelines and in the stands. Daily self-health checks. Outdoor training when possible. Contact tracing. Quarantines for those with high-risk exposure. Cardiac management before student-athletes who tested positive returned to their sport.
A recent study published by the Journal of the American Medical Association indicates mitigation measures taken during the past two years by member schools have worked.
College athletes vs. nonathletes
A group of Stanford researchers conducted the first known study investigating the difference in COVID-19 test positivity between college athletes and nonathletes at schools across the country. What they found was participation in college sports was not associated with increased test positivity in student-athletes compared with nonathlete students. In fact, they found the majority of schools studied had decreased test positivity among student-athletes.
Dr. Calvin Hwang, clinical assistant professor of orthopedic surgery and team physician at Stanford, co-authored the study, which initially looked at available data from schools throughout the five autonomous conferences. Researchers cast a wide net, since campus and local health directives vary, before settling on 12 Division I schools with the most complete set of publicly available data.
"We wanted to see across the country do athletes in general have higher test positivity rates compared to nonathletes, or are they actually potentially protected against infection based on some of the guidelines the NCAA has laid out to allow for the safe resumption of sport?" Hwang said.
The study found that student-athletes did not have increased risk of a COVID-19 infection compared with other students. At nine schools, student-athletes showed a decreased positivity compared with other students. The COVID-19 mitigation strategies implemented by the NCAA and individual schools and conferences may have impacted the results.
"This was a little bit surprising to us, but it really goes to show the likely protective effect the NCAA mitigation (guidance) in place last year had on preventing COVID infection within the student-athlete population," Hwang said.
Hwang is scheduled to appear on the NCAA Social Series streaming Wednesday with Dr. Catherine O'Neal, assistant professor of medicine in the section of infectious diseases at LSU Health New Orleans School of Medicine's Branch Campus in Baton Rouge, and Dr. Brian Hainline, NCAA chief medical officer. The three medical professionals will discuss the research findings and how college sports have navigated COVID-19.
Experts and teamwork are key
O'Neal and Hainline both point to the collaboration with campus medical staffs across the country in being key to the success of mitigation efforts.
O'Neal serves on the Southeastern Conference's Return to Activity and Medical Guidance Task Force, a group created to guide the SEC's decisions surrounding COVID-19. She highlighted the group's focus on what's best for student-athletes and taking one day at a time. As the pandemic has proven, once you think you know something for sure, circumstances change, and it's time to reevaluate.
"So be ready for change … because I think when you try to tell the future in a pandemic, you often end up being wrong," O'Neal said. "(Student-athletes) are the core. Making sure they're safe. And if they can be safe, they can play. It worked out for us, but I think that's a lot of luck and a lot of cooperation between good leaders."
Hainline leads the NCAA COVID-19 Medical Advisory Group, which includes medical professionals, epidemiologists and public health experts from all three divisions and each of the five autonomy conferences. Anticipating the need for guidance, the NCAA initially created the group before sports shut down in early 2020, and the group has continued to provide guidance at each important inflection point of the pandemic.
"I think the thing I'm most proud of is everyone was always looking for the common good. How can we do sport in a way that's safe and that makes sense and is going to shift public health positively?" Hainline said. "There was always this goal of playing sport — not for the sake of playing sport, but doing it safely and understanding the value of sport."
For more on college sports and COVID-19, visit ncaa.org/covid-19. Catch the NCAA Social Series interview with Hwang, O'Neal and Hainline on YouTube at 3 p.m. Wednesday.