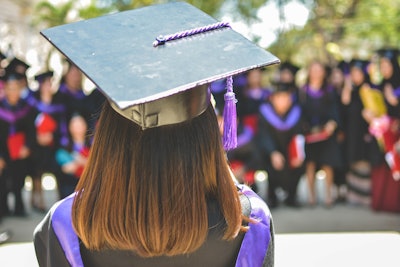 The NCAA men's basketball tournament hits full stride today, and while the men may garner higher TV ratings and greater office pool buzz, teams appearing in the women's bracket this year boast better academic success.
The Institute for Diversity and Ethics in Sport (TIDES) has released its report, "Keeping Score When It Counts: Academic Progress/Graduation Success Rate Study of the 2022 NCAA Division I Men's and Women's Basketball Tournament Teams." As reported for ESPN by the study's driving force, it identified the teams' Academic Progress Rates (APR) in addition to their Graduation Success Rates (GSR), asking the questions: Who displays superior academic performance? What do these numbers mean? What can we learn?
According to Lapchick, the women's teams again scored higher in the APR and GSR category compared to their male counterparts. The 2022 NCAA Tournament APR/GSR study showed that female basketball student-athletes graduated at a higher rate than their male counterparts, with the women graduating at an average of 93.9 percent and the men graduating at an average of 87.2 percent. This was a result of a slight increase for women, from 93.1 percent in 2021 to 93.9 percent in 2022. The men's tournament teams' overall GSR had a much more substantial increase to 87.2 percent from 82.4 percent in 2021.
Still, the women's teams did significantly better than the men's teams in all the categories measured by the institute:
• Nine women's teams achieved a perfect APR score of 1,000 (vs. one men's team).
• Sixty-seven of the 68 women's teams had an APR score higher than 950, whereas only 55 of the 68 men's teams achieved an APR score above 950.
• There were 31 women's teams with a 100 percent graduation rate vs. 23 men's teams.
If schools fail to meet a minimum four-year APR average of 930, which correlates to a 50 percent graduation rate, they could face NCAA-imposed sanctions, including loss of scholarships and postseason competition, and reduced practice hours. But Lapchick argues that the 930 benchmark, in place since a 2016 adjustment, is inadequate as a progress incentive. "Having the 930 minimum APR is too low a bar with a 50 percent graduation rate expectation as the standard," he writes. "All the teams have been way beyond that for several years. In fact, if we raised the graduation rate expectation to 60 percent, every women's team and all but one men's team in this year's tournaments would have exceeded it already."
In addition to gender disparities, the study also examined race — and found some encouraging news. "As academic progress in general continues, the most disturbing fact each year is the graduation rate gap between white and Black student-athletes," Lapchick writes. "Fortunately, this year the gap has narrowed for both the women's and men's teams. For the men, the gap decreased by almost two percentage points, from 13.5 percent to 11.6 percent in 2022, while the gap between white female student-athletes and Black female student-athletes in 2022 is at 5.9 percent, a decrease from 6.1 percent in 2021."
"It is important to take into account the unique circumstances of these past two years, as that has played a part in the decisions some athletes have made to transfer or finish school early," he continues. "However, in the academic community, it is critical that we keep making efforts to eliminate the graduation rate gaps and reiterate that academics should be at the forefront."