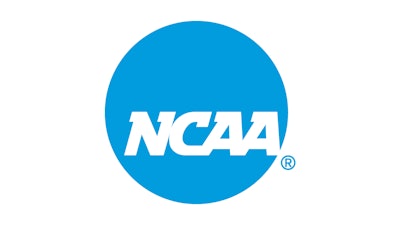 Karenna Groff, an All-America soccer player at MIT who majored in biological engineering, is the 2022 NCAA Woman of the Year. Groff was announced as the winner Thursday at the NCAA Convention in San Antonio during a celebration of the Top 30 honorees.
The Woman of the Year Award, created in 1991, recognizes graduating female student-athletes who have distinguished themselves in athletics, academics, leadership and community service. Groff is the second winner from MIT, joining 2016 Woman of the Year Margaret Guo.
"I'm incredibly grateful to be recognized in this way," Groff said. "Having gotten to meet the other incredible nominees and getting to know them, I feel pretty confident that we're in good hands. We have a lot of people dedicated to pushing forward equity in sports and in healthcare and in all walks of life. I hope to be a part of that in some small way."
A two-year captain, Groff was part of three New England Women's and Men's Athletic Conference championship teams and four NCAA tournaments, including a run to the quarterfinals in 2021. Her athletic honors include being named a first-team all-conference selection three times, a second-team All-American by the United Soccer Coaches in 2021 and a third-team All-American in 2022. In 2022, Groff was named the Division III Commissioners Association Region II Women's Student-Athlete of the Year and received the inaugural NEWMAC Student-Athlete of the Year Award, which recognizes academic achievement, athletics excellence, service and leadership.
"Being a student-athlete has allowed me to learn so much about leadership that I never would have gotten the chance to learn otherwise. I think you learn so much about yourself and your leadership style and also other people's leadership styles and what works for you," Groff said. "Having that knowledge, that practice and experience allows you to feel confident to serve as a leader in the classroom, in other activities and walks of life. I honestly don't know what kind of person I would be if I wasn't exposed to that and didn't have that opportunity through soccer."
Groff said soccer changed her perspective on life, the world and her future in it.
Specifically, Groff said playing for the U.S. juniors soccer team in 2017 at the World Maccabiah Games — held every four years in Israel for Jewish athletes across the world — opened her eyes to the lack of athletic opportunities for children in other countries. It inspired her to work with Soccer Without Borders and South End Soccer, two organizations that aim to expand opportunities for children to play the game regardless of their economic background. She also led fundraising efforts for South End Soccer through her role as co-president of MIT's Student-Athlete Advisory Committee.
This was only the beginning of her passion to help others in communities near and far.
Groff worked as a camp counselor for Camp Kesem, a nationwide organization that supports children whose parents have cancer, which she said is a personal highlight among her many community service involvements. She co-founded the MIT Slums and Informal Settlement research group to look into the impact of COVID-19 in slums. This research led to developing an online course on those complex challenges, which was taken by more than 1,000 people from 115 countries. She also co-founded OpenPPE in 2020 to help address the global shortage of personal protective equipment during the pandemic.
"I think one of the biggest lessons you learn from participating in community service is just how rewarding it feels to give back," Groff said. "I think all of us can relate to the fact that we are where we are as a result of a lot of kindness from a lot of different people and being able to push that forward, give back to the community and help make the community a little brighter, it's just such a rewarding thing to be a part of."
An aspiring physician, Groff is especially passionate about increasing access to high quality maternal health care. While at MIT, she helped implement software to reduce maternal mortality in Tamil Nadu, India, which saw a 50.1% decrease in maternal mortality during a two-year pilot study. She is also currently designing a low-cost, take-home anemia diagnostic and was awarded both a Sandbox Innovation Fund Grant and a Peter J. Eloranta Research Fellowship.
Groff, who was honored as a Tau Beta Pi engineering honor society inductee in 2022, published seven abstracts and four peer-reviewed papers on topics including epilepsy research and global health equity while at MIT. She's currently completing her Master of Engineering in biomedical engineering at MIT.
Soccer, she said, is at the heart of it all.
"I am indescribably appreciative of my athletic experiences growing up, which have empowered me to act as a leader and find success in the classroom, in the lab and beyond," she said. "Anytime something is really important to me, I want to push it forward, and I want to be a leader. This experience through athletics allows me to have the confidence to do that and, really, that's an invaluable skill. Leadership is so important in really everything I do. Even if you're not in a formal leadership role, even if I'm not like captain or running a certain program, knowing how to be a good teammate and be a good leader is essential to every single thing that I've done. I really have soccer to thank for that."