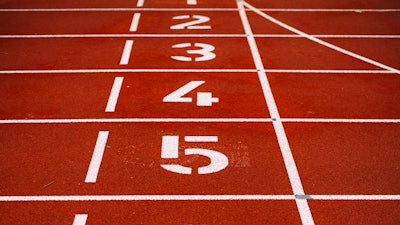 World Athletics this week announced stricter rules around transgender women athletes, banning some from competing in female track and field events.
The new rules will be implemented March 31 and would prohibit any athlete who has gone through "male puberty" from participating in female world rankings competitions. WA said the exclusion would apply to "male-to-female transgender athletes who have been through male puberty."
"Decisions are always difficult when they involve conflicting needs and rights between different groups, but we continue to take the view that we must maintain fairness for female athletes above all other considerations," World Athletics president Sebastian Coe said in a statement.
"We will be guided in this by the science around physical performance and male advantage which will inevitably develop over the coming years. As more evidence becomes available, we will review our position, but we believe the integrity of the female category in athletics is paramount."
World Athletics will now assemble a working group to examine the issue of transgender inclusion over the next 12 months.
A number of high-profile athletes could be affected by the decision, including two-time Olympic champion at 800 meters, who has been barred from that event since 2019. Caster Semenya and others had been able to compete without restrictions in events outside the range of 400 meters through one mile but now will have to undergo hormone-suppressing treatment for six months before competing to be eligible.
LGBTQ+ advocacy group Stonewall called the new WA rules excluding transgender women in upcoming events "disappointing."
"It is so disappointing to see World Athletics announce a unilateral ban on trans women in track and field events," Stonewall said in a statement. "Their own statement recognises that there are no trans women competing at an international level and that they have no specific evidence to justify the ban. We stand with trans people who now have the door closed on their chance to compete in athletic sports at an international level."