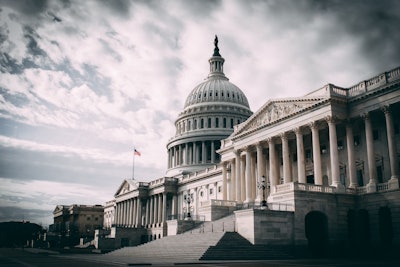 The republican-controlled House on Thursday passed a bill (219-203) that would ban federally supported schools and colleges from allowing transgender women athletes to compete on girls' and women's sports teams.
The bill is unlikely to advance, as the Democratic-led senate will not support it, and President Joe Biden would veto it.
Supporters of the bill said it was in support of cis-gender female athletes and fairness and that it would put violators at risk of losing taxpayer dollars. Opponents said the bill ostracizes an already disadvantaged group for political gain.
At least 20 states have already imposed similar laws that limit transgender participation at the K-12 and collegiate levels.
Rep. Greg Steube (R-Fla.) sponsored the bill.
"The integrity of women's sports must be protected," Steube said, according to the Associated Press.
House Speaker Kevin McCarthy, R-Calif., said it was a "great day for America, a great day for girls and women and for fairness in sports."
Rep. Pramila Jayapal (D-Wash.)who has a transgender daughter, said Republicans were cruelly scapegoating transgender children to score political points. She said three-quarters of transgender students report having experienced harassment or discrimination at school and many have considered suicide.
"These bills tell some of the most vulnerable children in our country that they do not belong," Jayapal said. "Shame on you."
The Biden administration this week stated its opposition to these types of bans, saying that competing on a team is an important part of growing up. The administration also proposed a rule that would prevent any school or college that receives federal funding from imposing a "one-size-fits-all" policy that categorically bans trans students from playing on sports teams consistent with their gender. Such policies would be considered a violation of Title IX.
The American Civil Liberties Union condemned the vote, asking in a statement why republicans are pursuing such policies.
"Why are Republicans in Congress spending their time bullying children? This is not what voters elected them to do," said Deirdre Schifeling, the ACLU's national political director.