Amid the rapidly evolving college athletics landscape, Division I student-athletes continue to achieve academic success and emphasize earning degrees. While some teams experienced a slight decrease in scores, the national four-year Academic Progress Rate held steady at 984. Baseball remained at 977, football fell by 2 points to 962 and men's basketball (967) and women's basketball (982) decreased by 1 point from last year's reported APR scores. These sport decreases were due to drops in eligibility rates in 2021-22 rather than lower rates of retention.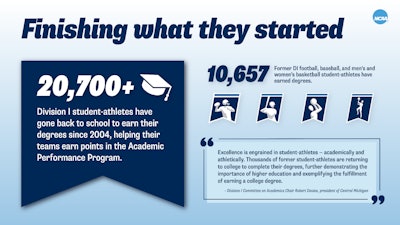 Additionally, many former student-athletes are returning to the classroom after exhausting their athletics eligibility to complete their degrees. Throughout 19 years of the Academic Performance Program, more than 20,700 student-athletes have gone back to school to earn their degrees, earning APR points for their former team. For football, baseball, and men's and women's basketball, more than 10,657 former student-athletes have earned degrees. These student-athletes are typically not counted in the federal graduation rate or Graduation Success Rate calculations.
"Excellence is engrained in student-athletes — academically and athletically. Thousands of former student-athletes are returning to college to complete their degrees, further demonstrating the importance of higher education and exemplifying the fulfillment of earning a college degree," said Division I Committee on Academics Chair Robert Davies, president of Central Michigan.
Each academic year, every Division I sports team calculates its APR using a simple and consistent formula. Each term, scholarship student-athletes can earn 1 point for remaining eligible and 1 point for staying in school or graduating. For schools that do not offer scholarships, recruited student-athletes are tracked.
This is the second year of publicly reported APRs after a one-year COVID-19 hiatus. Last spring, the Division I Board of Directors approved the release of APR scores but voted to continue the suspension of program penalties.
The minimum APR academic standard for each team is 930. Typically, teams that scored below the benchmark would have to face penalties that encourage an emphasis and prioritization on academics. However, due to the current penalty suspension in place, teams falling below the minimum 930 score will not be subjected to penalties this year.
Normal Academic Performance Program operations with program penalties and loss of access to postseason competition will resume in spring 2024. This will also include the public recognition of high-performing teams.
A full list of APRs for each team can be accessed by using the APR searchable database.