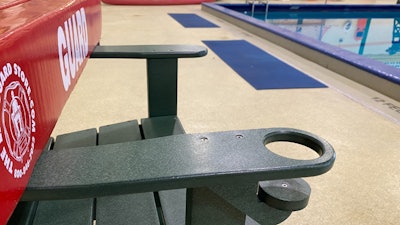 File photo/Athletic Business
Colorado governor Jared Polis announced Monday a new effort to keep pools open and fully staffed amid a lifeguard shortage.
Across the state, lifeguard shortages have continued to potentially limit pool hours this summer, CBS Colorado reported. The initiative announcement Monday builds off of one last year
Polis' announcement includes more than $250,000 of grant funding to increase staffing at public pools.
"The state of Colorado is stepping up and we are gonna help pay for lifeguard training," said Polis.
Craig Robinson, 69, recently became a lifeguard in Northglenn along with other senior citizens to fill the gap in lifeguard staffing. "We were getting kicked out cause they didn't have enough lifeguards that we could swim laps," Robinson said.
Under the new grant, local governments in Colorado can apply for between $1 and $20,000 to cover the cost of lifeguard certification and training, which usually costs around $500.
"Age is just a number but the cost of getting your lifeguard certification isn't," Robinson said. "I'm grateful to the governor for reducing that number for zero."
Waterpark bucks shortage trend
The shortage is a problem that the state's largest waterpark has somehow been able to avoid, CBS Colorado reported.
"We have been so fortunate because we've been in the community for 44 years operating as Water World and we just haven't had problems getting kids," said Water World spokesperson Joann Cortez.
Cortez thinks the park has a legacy hiring advantage. About 30 percent of Water World's lifeguards are returning workers, and many more have siblings who've worked there.
"A lot of families just send their kid after kid as they age into the position," Cortez said.
Water World has hired 375 lifeguards this year. While the park isn't not understaffed, it has had to increase wages to remain competitive.
"We know that there is a shortage there and how important the lifeguarding duties are," Cortez said.
This funding means it's a great time to get into lifeguarding in Colorado. It's a great first job for teens, and lifeguarding is a good way for all ages to serve their community and make a little extra money.
Local governments and park districts need to apply for the funding. The application is open through Friday.