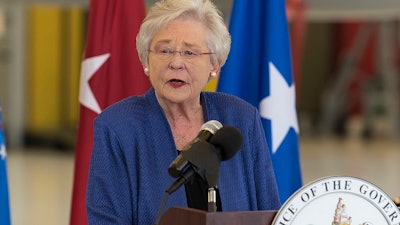 187th Fighter Wing/Public Domain
A bill to limit transgender students who play sports in public colleges and universities to play only with their gender assigned at birth was signed into law in Kansas on Tuesday.
"Look, if you are a biological male, you are not going to be competing in women's and girls' sports in Alabama," Gov. Kay Ivey said in a statement, as reported by WIAT-TV. "It's about fairness, plain and simple."
In 2021, Ivey had signed legislation banning biological males from competing in K-12 girls' sports.
The legislation expands Alabama's existing ban on transgender athletes to include college teams. Students assigned one sex at birth would be prohibited from playing under a different gender identity, even after undergoing hormone treatment. https://t.co/c8dGgmTH7O

— NBC News (@NBCNews) May 30, 2023
Public two- and four-year schools would "prohibit biological males from participating on an athletic team or sport designated for females and prohibit biological females from participating on an athletic team or sport designated for males," House Bill 261 says, NPR reported.
Under the law, schools that uphold the ban would be shielded from any investigations or formal complaints, and those that report a violation of the law could not be retaliated against by governmental, athletic or academic entities, it says.
Students who are "deprived of an athletic opportunity or [suffer] any direct or indirect harm as a result of a violation" also have the right to sue, the bill says.
The legislation points to biological and physical differences between men and women.
"Physical differences between biological males and biological females have long made separate and sex-specific sports teams important so that female athletes can have equal opportunities to compete in sports," it says.
The bill is part of a wave of restrictions on transgender people being pushed in conservative states. At least 20 states have now imposed restrictions on transgender athletes at the K-12 or collegiate level, or both, NBC News reported.