Calling a college baseball player out was a court's most questionable call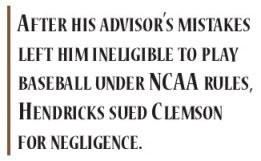 The National Collegiate Athletics Association, in an attempt to stop colleges from recruiting athletes already enrolled in other colleges, has developed a number of rules governing athlete eligibility. Because of the complexity of these rules, many colleges and universities have hired athletic department staff to assist their athletes with questions and problems they may have with the NCAA rules.
Since institutions are voluntarily undertaking the job of advising their athletes, some people have questioned whether the schools are assuming a legal duty toward them. This question is important, because one of the essential elements in any negligence lawsuit is a duty of care. For example, if an athlete were able to establish that a college or university, through its agent, owed them a fiduciary duty to competently advise them in order to achieve and maintain NCAA eligibility, the athlete would be able to sue the school if he or she lost eligibility as a result of poor advisement.
Whether a college or university can be held negligent for failure to properly advise athletes was just one of the questions presented to the South Carolina Supreme Court in Hendricks v. Clemson University [2003 S.C. LEXIS 51 (March 17, 2003)].
R.J. Hendricks received a scholarship to play baseball from St. Leo College (now St. Leo University), a Division II school in Florida. Hendricks' scholarship at St. Leo covered 75 percent of his costs for tuition, room and board. In his junior year, Hendricks received permission to talk with Division I schools about transferring for his final year of eligibility. (The NCAA permits students to transfer once during their college career to another school without having to sit out for a year after being released from the previous school.) Clemson University pursued a transfer exception for Hendricks from the NCAA, and Hendricks applied for admission and was accepted by Clemson, where he received a $250 book scholarship. Hendricks paid his own tuition, room, board and other expenses. At the time of his transfer to Clemson, Hendricks knew that he would have to return to St. Leo for an extra semester in order to graduate.
Prior to registering for classes, Hendricks communicated with Barbara Kennedy-Dixon, an academic advisor in Clemson's Student-Athlete Enrichment Program, about enrolling in classes. Since Clemson did not offer Hendricks' major, Kennedy-Dixon advised Hendricks to declare himself a speech and communications major. Pursuant to her advice, Hendricks enrolled in 15 hours for the fall semester. A week and a half into the fall semester, however, Kennedy-Dixon realized she had not evaluated whether Hendricks was in compliance with the NCAA's 50 percent rule, which requires a student-athlete to complete at least 50 percent of the course requirements toward his or her major to be eligible to compete during a fourth year of college enrollment. Recognizing her mistake, Kennedy-Dixon advised Hendricks to drop one class and add two speech classes, increasing his credit hours from 15 to 18. Kennedy-Dixon discussed the mistake with her graduate assistant, but did not report it to Clemson's athletic department supervisor or NCAA compliance director, even though that was standard procedure.
Shortly before the spring semester began, Kennedy-Dixon realized that she had miscalculated the total number of electives Hendricks could take and, consequently, that he was not in compliance with the 50 percent rule. Upon discovering this mistake, Kennedy-Dixon filed a waiver application with the NCAA in which she claimed responsibility. The NCAA denied the appeal, and Hendricks was ruled ineligible to play baseball.
Hendricks, who remained at Clemson for the spring semester, returned to St. Leo the next fall, minus the scholarship that he lost when he transferred to Clemson. He graduated on schedule in December, but stayed on at St. Leo for the spring semester to play baseball because he had not used his final year of eligibility.
As a result of Kennedy-Dixon's mistakes, which left him ineligible to play baseball at Clemson under NCAA rules, Hendricks sued Clemson for negligence, breach of fiduciary duty and breach of contract. The trial court, in granting Clemson's motion for summary judgment, ruled that Clemson did not owe Hendricks any duty to ensure his athletic eligibility. The South Carolina Court of Appeals, in Hendricks v. Clemson University [529 S.E.2d 293 (2000)], reversed the trial court's decision, finding that genuine issues of material fact existed. In particular, the appeals court rejected Clemson's argument that Kennedy-Dixon's actions could not constitute gross negligence because the university had no duty to ensure students' athletic eligibility. The court held that Clemson, through its employee (Kennedy-Dixon), assumed a duty to make sure athletes maintain their eligibility according to NCAA regulations. [See "Wronged Rights," Nov. 2001, p. 20.]
Disappointed with the ruling, Clemson appealed to the South Carolina Supreme Court. The court, recognizing that this was an issue not previously argued in South Carolina, was forced to determine whether the law in South Carolina should recognize a new duty of care between an advisor and a student.
The court did look at how the courts in other states had addressed the same question. For example, courts in California, a state that represents the position of the majority of states, have leaned toward finding no duty because of significant policy concerns. In Brown v. Compton Unified School District [80 Cal.Rptr. 2d. 171 (Cal. App. 1998)], a high school student sued his school for negligently advising him on which classes to take. (The student was ruled ineligible to play basketball at the University of Southern California, and, subsequently, lost his basketball scholarship from that university.) Although the court in question recognized that his damages were more readily identifiable than in the normal educational malpractice claim, it found the school immune based on a statute granting immunity to public employees for negligent misrepresentations.
California courts have identified several policy concerns regarding the recognition of an actionable duty of care owed from educators to students. These include:
1. The lack of a satisfactory standard of care by which to evaluate educators, 2. The inherent uncertainties of the cause and nature of damages, and 3. The potential for a flood of litigation against already beleaguered schools.
In agreeing with the California courts, the South Carolina Supreme Court ruled that Hendricks' claim regarding his advisor's negligence should fail for the same reasons the courts in California refused to recognize an actionable duty of care. In particular, the court found no precedent for recognizing a duty, and predicted that doing so would unleash a torrent of litigation.
While the appeals court had found that under common law, once an act is voluntarily undertaken, the actor assumes a duty to use due care in performing the act, the Supreme Court noted that the rule imposing a duty had thus far been limited to situations in which a party has voluntarily undertaken an act to prevent physical harm, not economic injury. Since Hendricks suffered no physical harm, the Supreme Court refused to extend the policy to situations involving economic injury.
Similarly, the court denied Hendricks' argument that Clemson's action constituted a breach of contract. While recognizing that some aspects of the relationship between a student and a university are indeed contractual, the court nonetheless held that Hendricks failed to point to any identifiable contractual promises that Clemson had failed to honor. Indeed, the court found that Hendricks did not even discuss NCAA academic eligibility until he was already enrolled at Clemson. According to his deposition, all of Hendricks' conversations with Kennedy- Dixon prior to arriving on campus were limited to what major would most easily transfer back to St. Leo.
While the ruling by the South Carolina Supreme Court to reverse the decision of the appeals court is a victory for Clemson and for colleges and universities throughout the United States, it is a dubious one. By refusing to extend an actionable duty of care from educators to students, the South Carolina Supreme Court missed an opportunity to establish standards of care by which to evaluate schools and their employees, and to put schools on notice that they cannot act in a negligent manner when dealing with students. In addition, by finding that Clemson did not owe Hendricks (or any student) a duty concerning proper advising, even though Clemson voluntary undertook such a duty to ensure Hendricks' NCAA eligibility, the court is allowing the university to ignore the economic injury that bad advice can cause.
As for the court's policy concerns, one question: If schools are acting in a grossly negligent manner when dealing with students, why should the courts protect them?
---
Attorney John Wolohan (jwolohan@ithaca.edu) is an associate professor of sports law in the sport management and media department at Ithaca College.