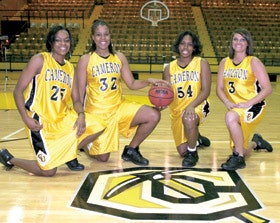 Cameron University, an NCAA Division II school in Lawton, Okla., announced June 25 that it was discontinuing use of the adjective "Lady" in all references to its five women's athletic teams. Weeks earlier, Indiana University South Bend dropped "Lady" from its NAIA women's basketball program. And so the Aggies and Titans head into their respective 2007-08 seasons looking to distinguish themselves from their male peers only through on-field performance - without the excess jersey verbiage.
As long as there has been women's intercollegiate athletics, the word "Lady" has helped differentiate women's teams from those of men. But that's changing. "It's thought of as being very sexist," says California University of Pennsylvania sports management professor Roy Yarbrough, who is working on a third edition of his book Mascots: The History of Senior College Mascots/Nicknames. "Its use has diminished."
Still, as many as 63 four-year colleges and universities at all levels of competition include "Lady" when labeling at least one women's team. And that list does not include Centenary College of Louisiana and Kenyon College in Ohio, where Ladies stands alone as a nickname (alongside Gents and Lords, respectively). Nor does it include suffix-saddled schools such as Kentucky State, where men are known as the Thorobreds and women as the Thorobrettes, or those employing alternative adjectives. Central Arkansas, for example, is home to both the Bears and the Sugar Bears. "It just seems schools are working way too hard to differentiate something that doesn't need to be differentiated anymore," says Kim Ode, who first addressed the topic in a 1999 Minneapolis Star Tribune column after the Minnesota Department of Children, Families and Learning had urged schools to drop "Lady" from their team names because "the term is diminutive and perpetuates a form of sex discrimination."
And while female student-athletes at both Delta State and William Penn carry the oxymoronic moniker Lady Statesmen, gender-specific nicknames are often used to differentiate men's and women's programs - a practice that Ode suggests at least adheres to a principle of parallelism. These include Cowboys and Cowgirls (Hardin-Simmons University, McNeese State, Oklahoma State, University of Wyoming), Minutemen and Minutewomen (University of Massachusetts) and
Peacocks and Peahens (St. Peter's College). The University of Southern California calls its men the Trojans and its women the Women of Troy, without any apparent uprising.
But even with its connotations of Southern gentility, "Lady" remains a lightning rod for debate. Prior to facing off for the 2007 NCAA national championship, University of Tennessee head coach Pat Summitt and her Rutgers counterpart C. Vivian Stringer offered conflicting opinions on the nickname qualifier. "That Lady Vols logo is known throughout the country and throughout the world," said Summitt. "I just can't see that changing." Countered Stringer, still days away from hearing Don Imus and his radio producer refer to her Scarlet Knights with an altogether unladylike term, "I just believe that basketball is basketball, and you don't need to make a distinction."
"On the surface, it seems like a small issue," Women's Sports Foundation president Aimee Mullins told USA Today's Christine Brennan in April. "But it's symptomatic of a larger pattern of women's programs being viewed as the stepchild of the men's programs. Because men's teams were in place years before women's teams, some women's programs did this to differentiate between the two programs, but I think it's passé now."
Count the University of Arkansas, a modern-day rarity in that it still supports separate departments for men's and women's athletics, among those schools that see value in differentiation. As explained at ladybacks.com, "To emphasize its separate identity, the Arkansas women's athletics department continues to use 'Lady' in its nickname. While some consider it progressive to drop 'Lady,' Arkansas employs it as a marketing and identification tool."
But Tennessee and Arkansas are clearly among a waning minority. Cameron's decision to drop "Lady" proved particularly popular among members of its 15-school Lone Star Conference. "Five different sports information directors called us and said, 'Great! We're glad that you did that. We did it years ago,' " says Cameron athletic director Jim Jackson, a former collegiate women's basketball coach. However, the divorce of "Lady" from "Aggies" did not come without the initial suggestion by a CU faculty member, thorough discussion among coaches and a realization that assorted uniforms and equipment would now be rendered obsolete. In the end, solidarity triumphed. Says Jackson, "We're all Aggies."