Reviews of The Death of Sportsmanship And How To Revive It; online training program for lifeguards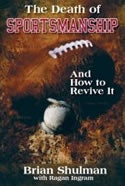 Behavior Modification
As the founder of Learning Through Sports, a provider of web-based interactive education and sportsmanship games for kids, Brian Shulman has become a national advocate for model behavior - both on the field and off. In The Death of Sportsmanship And How To Revive It (Learning Through Sports, softcover, $9.95), he identifies the main culprits: professional athletes and the mainstream media, society's win-at-all-costs attitude, overzealous parents and an overemphasis by schools on No Child Left Behind Act test preparation at the expense of character development. Then Shulman outlines strategies to help athletics administrators, coaches, teachers and parents restore sportsmanship in their communities. At 65 pages, the book is a quick read that only skims the surface of the issue, but nevertheless advances the discussion.



Click and Save
Web-based education courses are popping up in many areas of recreation and sports management, and Human Kinetics' new online training program for lifeguards is designed to reduce expenses and time. Ideal for students in geographically diverse locations, the program is based on the Starfish Risk Management model, "Starguard: Best Practices for Lifeguards." It highlights top tactics in surveillance, emergency care, aquatic rescue, professionalism and personal safety. The course integrates basic lifeguard training with four key emergency-care competencies (first aid, CPR and AED, blood-borne pathogens and emergency oxygen) all in one interactive program, and it replaces the traditional classroom environment by allowing students to complete the self-study component on their own. The instructor-led component follows, and includes written and practical exams that lead to certification.
www.aquaticeducationcenter.com