Will a new dress-code policy change the image of Florida State University athletics?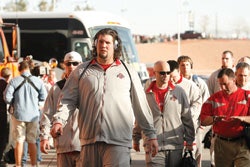 A new year, a new image for Florida State University athletics. That appears to be the hope of FSU president T.K. Wetherell, who gathered a group of student-athletes Jan. 8 to discuss new policies regarding class attendance and personal appearance - the memory of their school's loss a week earlier in the Gaylord Hotels Music City Bowl, from which 23 Seminole football players had been suspended for their roles in a larger academic cheating scandal, still fresh.
According to the FSU fan site warchant.com, the class attendance policy for all student-athletes calls for suspensions ranging from a single contest (for three unexcused absences) to an entire season (for five unexcused absences). But showing up on a regular basis is only the beginning. Students must refrain from wearing hats, tuck in their shirts, and keep accessories such as cell phones and iPods idle during class.
Is FSU asking a lot? As dress codes among NCAA Division I peer institutions go, it certainly appears so. In fact, a modern-day code applied specifically to classroom appearance may be unprecedented.
If a large athletic department even has a dress code, it usually falls into the "up to individual coaches" category and primarily applies to team travel. Others use language similar to St. Cloud State University, which advises student-athletes to "dress appropriately and remember that you are a representative of SCSU."
Ironically, the lower profile the school or sport, the more wrinkles in the dress code. Graceland University, an NAIA member, allows for "travel sweats in lieu of dress clothes; however, it is recommended those student-athletes always look their best by tucking shirts inside pants and having a proper advertisement on a T-shirt that is not offensive." Division III Norwich University's dress code applies to all away athletic events involving varsity and club teams alike, stating that "men will wear a sport coat, dress shirt, a tie and dress shoes, and women will wear a dress or a skirt [or] dress pants and a dress shirt or blouse and dress shoes." The men's ice hockey club at the University of Missouri enforces its spiff-up specifics at every game, "both in and out of all arenas," as the code puts it. Players can wear either "1) team warm-ups, or 2) button-down collared shirt, khakis/dress pants, belt and dress shoes. No hats, jeans, athletic shoes or torn clothing will be permitted. Ties are not required."
Whether Florida State's classroom dress code sticks (the university did not confirm its existence as of this writing, though warchant.com editor Gene Williams cites an FSU student-athlete as his source), and whether it succeeds in polishing the scuffed image of certain Seminole sports teams remains to be seen. Still, hats off to Wetherell for trying.