A new state law makes Maryland the first to require schools to create equal athletic and physical education opportunities for students with disabilities.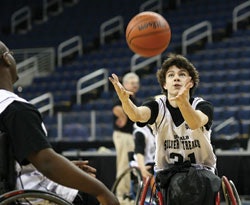 The Tatyana McFadden effect rolls on. Influenced in part by the renowned wheelchair athlete from Atholton High School in Columbia, Md., the Maryland General Assembly in April became the first state legislature to pass a bill requiring schools to create equal opportunities for students with disabilities to participate in physical education programs and on mainstream athletic teams.
McFadden, who was born with spina bifida and won two medals in the 2004 Paralympics, went to court twice during her high school career to fight for her right to participate in interscholastic track events. The McFadden family also lobbied hard for passage of Maryland's Fitness and Athletics Equity for Students with Disabilities Act, which goes into effect next month and gives schools three years to implement policies and procedures for accommodating physically challenged student-athletes. Exceptions can be made, according to the bill, if inclusion of a participant "presents an objective safety risk to the student or to others or fundamentally alters the nature of the school's mainstream physical education or mainstream athletic program."
"This will forever change the landscape of opportunity for disabled students," Deborah McFadden, Tatyana's mother, told The Washington Post. "For me, it's the same thing as rights for women and people of color."
But Milton Kent, a columnist for The Baltimore Sun, remains skeptical. "Left unclear from the bill's passage," Kent wrote, "are the twin questions of how compliance would be effectively measured and whether the bill, if signed by Gov. Martin O'Malley, could force competition between able and disabled athletes, an arrangement that would serve neither party well."
Those are good questions, say officials with the Atlanta-based American Association of Adapted Sports Programs, which works with state high school athletic associations in Alabama and Georgia to develop sports programs specifically for physically challenged students. (The Minnesota State High School League is alone in that it has independently sanctioned state titles for disabled student-athletes in four sports since 1993.) "In many ways, Maryland has set its compass on a mostly uncharted course," AAASP co-founder and chief operating officer Tommie Storms says in a statement responding to Kent's column and posted on the organization's web site (www.adaptedsports.org). She adds that a percentage of high school students with disabilities "should and could very reasonably be included on existing team rosters, safely and without challenging the nature of the sport - two markers the courts have considered in allowing or disallowing participation by students with disabilities." As proof, she cites amputees successfully participating on wrestling and football teams.
The Maryland Association of Boards of Education, while in favor of ensuring the participation of students with disabilities in athletic and physical education programs, opposes the act, claiming it legislates policy issues that the State Board of Education is currently addressing. In fact, association officials say they've already begun implementing changes to eliminate existing barriers.
AAASP's Storms applauds Maryland for placing the burden of responsibility on schools to develop programs that serve the needs of all students, not just able-bodied ones. She suggests Maryland school administrators look to their counterparts in Georgia and Minnesota for guidance, where students with physical challenges have either been integrated into mainstream teams or formed their own networks of wheelchair teams with players culled from several area schools. "Is the development and integration of an interscholastic athletic model, inclusive to those with disabilities, a difficult undertaking? Yes," she says. "Is it impossible? No. Maryland's best course is clearly just to buckle down and get it done."