A new state law makes Maryland the first to require schools to create equal athletic and physical education opportunities for students with disabilities.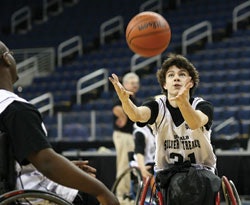 The Tatyana McFadden effect rolls on. Influenced in part by the renowned wheelchair athlete from Atholton High School in Columbia, Md., the Maryland General Assembly in April became the first state legislature to pass a bill requiring schools to create equal opportunities for students with disabilities to participate in physical education programs and on mainstream athletic teams.
McFadden, who was born with spina bifida and won two medals in the 2004 Paralympics, went to court twice during her high school career to fight for her right to participate in interscholastic track events. The McFadden family also lobbied hard for passage of Maryland's Fitness and Athletics Equity for Students with Disabilities Act, which goes into effect next month and gives schools three years to implement policies and procedures for accommodating physically challenged student-athletes. Exceptions can be made, according to the bill, if inclusion of a participant "presents an objective safety risk to the student or to others or fundamentally alters the nature of the school's mainstream physical education or mainstream athletic program."
Log in to view the full article