The debate over whether retiring a number is considered historic preservation or lost legacy heats up at Syracruse University.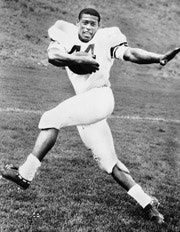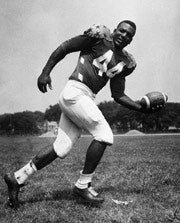 GREAT RUN
Over a span of 77 years, number 44 has been worn by 25 Syracuse players - none more prolific than Floyd Little (top), Jim Brown (bottom) or Ernie Davis.
F
ew institutions have gotten as much mileage out of a number as Syracuse University has with "44." With a football pressed against it by the likes of Jim Brown, Ernie Davis and Floyd Little, the number has covered more ground on the gridiron than any in school history. So intertwined is 44 in the campus fabric, the digits are the first two in SU's telephone exchange and the last two in its zip code. The administration saw to that.
Lately, though, a group of students and alumni have lobbied their school to squeeze a little more use out of an old Orange favorite by ending the number's retirement from football - made official in 2005. "If there was ever a number that needed to be retired, it is 44," reasoned SU director of athletics Daryl Gross at the time. "If you can't take 44 off the table, then you're just never going to retire a jersey."
Bothered by that decision ever since, Brian Roll, a 1998 Syracuse graduate, launched a Facebook group called "Restore 44." He soon found he wasn't alone in his desire to see the number back on the field and not merely displayed on a banner. As of this writing, the online community boasted 761 members. "If the number stays retired and simply adorns the roof of the Carrier Dome, the legacy will be lost," 2002 SU graduate Josh Lukin told The Daily Orange student newspaper. "However, if the number is passed down from team to team, then the stories and tradition of Syracuse football can be passed from generation to generation."
There's nothing uniform about the practice of retiring numbers. The Ohio State football program has retired seven of them, while Big Ten Conference rival Penn State hasn't retired a single one. Some schools prefer to keep a storied number active so it can honor a current player deemed worthy of wearing it - as the University of Michigan has done with the number 1.
Six players have worn 44 for Syracuse since 1966, the year Little last pulled it over his pads. But none has lived up to the legacy of Little, a three-time All-American; Davis, the first African-American to win the Heisman Trophy; or Brown, who once scored a school-record 43 points in one game. As SU's final "44," Rob Konrad admits that the offer to wear Jim Brown's number was a factor in his choosing to attend Syracuse over Notre Dame. "When I arrived at Syracuse [in 1995], it was made clear that I was to be held to a different standard for my performance on the field and my actions in the community," wrote the former fullback in a January e-mail to Donnie Webb of
The Post Standard
of Syracuse. "When I look back at the number and its history, I think mainly of three great men, a university that demonstrated courage during socially turbulent times, and an outcome that helped to liberalize collegiate athletics. It's my contention that the number transcends college football and stands as a symbol for equity and excellence. I believe the program should be proud of its history and keep it displayed as a symbol of the values embodied by the university."
For his part, Gross still believes that retirement is the best means of history preservation. "Out of respect to these men and their accomplishments, 44 will remain retired," he told Webb. "The 44 number will always be displayed prominently in the Dome so no one ever forgets the legacy."