For three years, I was a USA Swimming-certified stroke and turn official, which means I stood at the end of a pool for hours making sure each and every swimmer in my lane (or, as was more typical, my lanes) legally executed their strokes. If not, it was my duty to disqualify that swimmer. Most of the DQs I issued were to kids 14 and younger, and I'm pretty sure the majority of them knew they screwed up before I even raised my arm to report the infraction to the head referee.
So it didn't surprise me that 24-year-old South African Cameron van der Burgh admitted he took three underwater dolphin kicks - instead of the one allowed under FINA rules - at the start of his gold-medal-winning, world-record-setting 100-meter breaststroke final at the Olympics last week. The dolphin kick is a whip-like motion generated from the hips that aids in propulsion.
At least he didn't deny doing what video (van der Burgh is wearing the green cap) clearly indicates he did. What left me feeling unsettled, especially as the father of a 12-year-old son and a 15-year-old daughter who are both competitive swimmers, is that van der Burgh felt compelled to defend his cheating because, he claims, everybody else is cheating, too.
''If you're not doing it, you're falling behind. It's not obviously - shall we say - the moral thing to do, but I'm not willing to sacrifice my personal performance and four years of hard work for someone that is willing to do it and get away with it,'' van der Burgh told The Sydney Morning Herald. He even called out Australia's Brenton Rickard, who was in the lane next to him in the same race. "In the underwater footage, he's doing the exact same thing as me."
The South African swimmer went on to claim that "99 percent" of world-class swimmers do an illegal number of dolphin kicks. (SwimmingWorld.com reported that in the second semifinal heat of the 100-meter breast at the London Games, Australia's Christian Sprenger and Lithuania's Giedrius Titenis each did dolphin kicks into the finish before their hands touched the wall. At last year's world championships, an illegal dolphin kick at the finish of the 50-meter breast final by winner Felipe Silva of Brazil was never appealed or disputed during the meet.)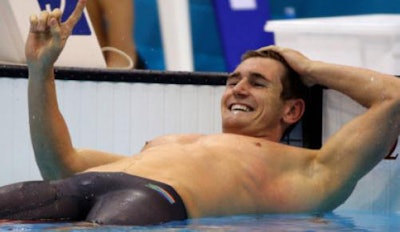 FINA, swimming's international governing body, does not use underwater officiating or video technology to DQ swimmers, and stroke and turn referees can't see everything that's going on underwater - especially when that water is being agitated by eight of the fastest, strongest male swimmers in the world. Waves, glare and the very real possibility that the official overseeing a given lane is looking at another part of the swimmer's body at the time an infraction is committed are valid arguments. Plus, as all stroke and turn officials are reminded at every swim meet they work, benefit of the doubt always goes to the swimmer.
I missed some calls during my days as a swim official, no question; so have the officials in lanes next to me and my former colleagues around the country. But, to use van der Burgh's logic, others missing calls doesn't justify any of us blowing them on purpose.
The Associated Press reported Wednesday afternoon that FINA is considering the introduction of underwater video to observe illegal kicks and other infractions. No word yet on the logistics involved, but a move like that would certainly get guys like van der Burgh to shut up. "If you can bring in underwater footage," he told the Morning Herald, "that's when everybody will stop doing it because that's when you'll have peace of mind to say, 'Alright, I don't need to do it because everybody else is doing it and it's a fair playing field.' "
As opposed to the peace of mind that comes with cheating to win Olympic gold.