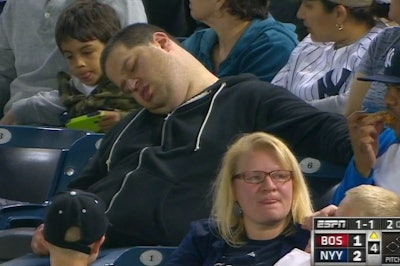 No, he's not suing because the Yankees failed to deliver a fan experience worthy of watching. The fan, Andrew Rector, has filed a lawsuit alleging defamation after video of him sleeping was broadcast on ESPN, along with some colorful commentary from announcers  John Kruk and Dan Shulman, who are named in the suit along with the MLB, the Yankees and ESPN. 
 The incident occurred during an April 13 game at Yankee Stadium against the Boston Red Sox during which Rector did indeed fall asleep. According to the lawsuit: 
ESPN Cameras focused on the plaintiff, Announcers like Dan Shulman and John Kruck unleashed avalanche of disparaging words against the person of and concerning the plaintiff. These words, include but not limited to 'stupor, fatty, unintelligent, stupid' knowing and intending the same to be heard and listened to by millions of people all over the world, including people that know the plaintiff in person or interacted with the plaintiff.
Rector is seeking $10 million in damages.
RELATED: Lawsuits, from the Laughable to Legitimate
RELATED: Blog: Frank Repercussions in Hot Dog Toss Lawsuit