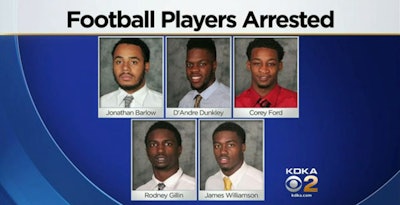 California University of Pennsylvania has canceled Saturday's football game against Gannon University after five of its players were arrested in connection with a violent beating outside a California restaurant.
According to KDKA-TV in Pittsburgh, police say five California players beat and stomped 30-year-old Lewis Campbell to the point he lost consciousness. The five players then fled the scene yelling "Football strong!" while the victim was taken to intensive care with severe brain trauma.

The players involved have been identified as James Williamson, Corey Ford, Jonathan Barlow, Rodney Gillin and D'Andre Dunkley. The fight reportedly started over one of the players talking to Campbell's girlfriend.

California University, a Division II school with about 9,400 students, announced the cancellation of Saturday's game with an announcement on its athletic site that read in its entirety:

"California University of Pennsylvania officials have announced the cancellation and forfeited its home game scheduled against Gannon on Saturday, Nov. 1."

In a longer statement, interim university president Geraldine Jones said:

"California University does not tolerate violent behavior, and the five student-athletes charged in connection with this incident will face University sanctions, along with any penalties imposed by law."

The five players have been charged with aggravated assault, recklessly endangering another person, harassment, and conspiracy. They're being held in the Washington County Jail on a $500,000 bond.