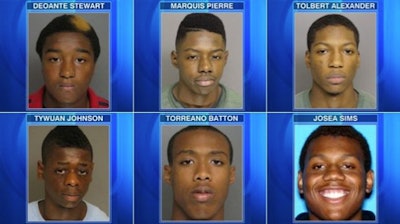 In a recent string of ugly incidents in high school sports, Wednesday's news of an alleged gang rape by a group of Florida high school football players is perhaps the most disturbing.
Police arrested six Winter Springs High School (Winter Springs, Fla.) teens in connection with the alleged rape of a student that took place in the woods near their school last week.

The student-athletes, all football players, have been charged with sexual battery and false imprisonment after they allegedly pulled the 16-year-old victim into the woods and raped her.

Those arrested on Wednesday were identified as Tywuan Johnson, 17, Torreano Batton, 18, Jose Sims, 17, Deoante Steward, 17, Tolbert Alexander, 16, and Marquis Pierre, 16. While all but one are minors, the alleged perpetrators' names have been released in accordance with Florida law that allows it when the minors are charged with a felony.

According to WFTV in Orlando, the victim claims she left campus with one of the boys to go to a nearby McDonald's. The victim told police three of the boys sexually battered her on the way to the McDonald's and the others showed up later, pulled her into the woods near the school and raped her.

Reports say the victim was able to record some of the incident on her iPod.

From WFTV:

According to the arrest report, she told police she told the boys no, but they allegedly ignored her and circled around her in an intimidating fashion.

Reports said the victim can be heard in the video saying "no" repeatedly and that she told the boys "she wants to go back to school."

Police said the boys can be heard continually asking her to perform oral sex and one of the boys can be heard saying, "It's his birthday."

The alleged incident took place last Thursday. Investigators said they spend the weekend tracking down the accused juveniles in an effort to piece together what happened.

The suspects were in school before the arrest.

Seminole County Public School released the following statement:

"School officials have been notified by the Winter Springs Police Department of the arrest of several young men. We cannot be specific as to any action taken by the school due to student confidentiality. Additionally, the school system has appropriate programs in place to meet the needs of any affected students."


RELATED: Cal University Cancels Football Game After Players Beat Man Unconscious
RELATED: UT Football Players Suspended Amid Rape Allegations