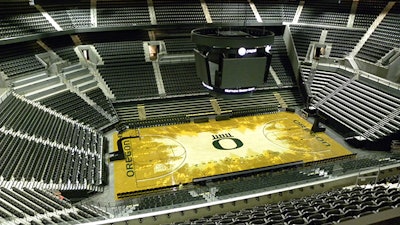 A University of Oregon student is suing the school and head basketball coach Dana Altman contending the school knowingly admitted a transfer student with a previous record of sexual assault. The student reported in March 2014 that she was raped by three Oregon basketball players.
The lawsuit claims that Altman recruited and the school admitted transfer student Brandon Austin knowing he had been suspended by his former school following a sexual assault accusation. Altman recruited Austin from Providence College in Rhode Island.
The complaint was filed in U.S. District Court in Eugene by attorneys John Clune of Boulder, Colo., and Jennifer Middleton of Eugene, on behalf of the alleged victim who is listed as Jane Doe. She reported in March 2014 that she was raped by Austin and fellow Oregon basketball players Damyean Dotson and Dominic Artis. The University of Oregon found the three players responsible for sexual misconduct and banned them from campus for up to 10 years. However, Oregon faced criticism for allowing the players to play in the NCAA Tournament after it had received a report of the incident from the alleged victim's family. The school did not disclose any information about the case until May, when the police report was discovered by local media.
UO subsequently acknowledged it knew March 9 about the alleged incident, which took place in the overnight hours of March 8-9. The school says it learned the police were investigating the three players on March 19. The Ducks defeated BYU in the second round of the NCAA Tournament the very next day and were eliminated by a loss to Wisconsin on March 22.
"UO delayed taking any action on the sexual assaults for over two months while it prioritized winning basketball games over the health, safety and welfare of its students, including plaintiff," Thursday's lawsuit says.
The alleged victim claims she "suffered damages and injuries as a result of the UO's violations of Title IX." The lawsuit also accuses Oregon of having "deliberate indifference" to the safety of its students by recruiting Austin, who had a history of sexual assault.
"This is a very important case that needs to be litigated," Clune said in a statement. "It's time for athletic departments to stop trading the safety of women on campus for points on a scoreboard. UO is a good school with a great community and they deserve better."
The lawsuit seeks a jury trial and an unspecified amount of damages for the alleged victim's tuition and "past, present and future emotional pain and suffering, ongoing and severe mental anguish, and loss of past, present and future enjoyment of life."
Oregon's interim president, Scott Coltrane, denied any wrongdoing by the school. "We have been as respectful and supportive as possible of the student, including immediately implementing support services and appropriately honoring her choice of process, once hearing of her experience," he said in a statement. Coltrane said the school makes decisions on transfer applications "based on the information made available to us by applicants and our colleagues nationally."
Colleges are not required to note violations of sexual misconduct on a student's transcript.
Altman had no comment on the lawsuit. He claims he spoke to Providence basketball coach Ed Cooley about Austin, but was not aware of the reason for his suspension. Austin and a Providence teammate were suspended in November 2013 after being accused of sexually assaulting a female student. At Providence, an adjudication panel found Austin responsible for "non-consensual sexual penetration" and voted to suspend him. That decision was overturned by a vice president at the college. While suspended, he was recruited by Oregon.
At Oregon, Austin, Dotson and Artis struck a deal with the university before being disciplined. The players waived their right to a hearing in exchange for giving the university full control over the discipline process. In exchange, the players were not expelled and their transcripts would omit any reference to "sexual misconduct."
Austin and Artis have continued their basketball careers elsewhere, while Dotson has not. Austin is averaging 15.9 points per game for Northwest Florida State College, a junior college. Artis is attending Diablo Valley College near Oakland, Calif. He is sitting out this season to maintain two years of eligibility should he transfer to a Division I school.


RELATED: From Uniforms to Slogans, Oregon Football a Proud Trendsetter