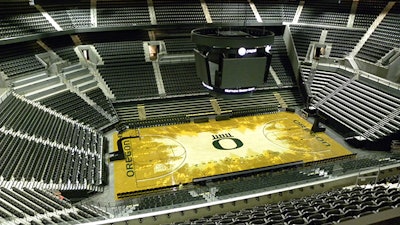 A University of Oregon student is suing the school and head basketball coach Dana Altman contending the school knowingly admitted a transfer student with a previous record of sexual assault. The student reported in March 2014 that she was raped by three Oregon basketball players.
The lawsuit claims that Altman recruited and the school admitted transfer student Brandon Austin knowing he had been suspended by his former school following a sexual assault accusation. Altman recruited Austin from Providence College in Rhode Island.
The complaint was filed in U.S. District Court in Eugene by attorneys John Clune of Boulder, Colo., and Jennifer Middleton of Eugene, on behalf of the alleged victim who is listed as Jane Doe. She reported in March 2014 that she was raped by Austin and fellow Oregon basketball players Damyean Dotson and Dominic Artis. The University of Oregon found the three players responsible for sexual misconduct and banned them from campus for up to 10 years. However, Oregon faced criticism for allowing the players to play in the NCAA Tournament after it had received a report of the incident from the alleged victim's family. The school did not disclose any information about the case until May, when the police report was discovered by local media.
Log in to view the full article