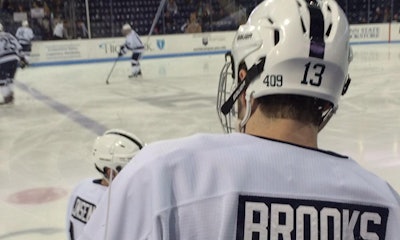 On Friday, the NCAA agreed to restructure the sanctions on Penn State University and restore 111 victories it had stripped from Joe Paterno's record in the wake of the Jerry Sandusky child sex-abuse scandal.
Restoring those 111 victories gave Paterno 409 career wins again, more than any college football coach in history. Many Penn State supporters rejoiced. Among those celebrating the decision was the school's hockey team whose players marked the occasion by adding 409 decals onto their helmets.
409. #WeAre #PSUnrivaled pic.twitter.com/ULtSKa4bHt

— Penn State Football (@PennStateFball) January 16, 2015
However, not everyone supported the decision. The replies to the tweet below (click the tweet to read them) offer a sampling of the criticism the hockey team received. The fact Penn State was celebrating the wins and seemingly overlooking the reason those wins were vacated in the first place rubbed some people the wrong way, including the school's athletic director, Sandy Barbour.
Penn State hockey will wear "409" stickers on helmets tonight. PSU bkb players wearing "409" T-shirts Sat. pic.twitter.com/AsSutMxZ64

— Dennis Dodd (@dennisdoddcbs) January 16, 2015
In a tweet that has since been deleted, Barbour responded to a Twitter user who had criticized the hockey team's decals. "Agree with you. Inappropriate and insensitive. It's been corrected," she tweeted on January 17th. The user Barbour was responding to has since deleted her account as well.
The following day, Barbour posted the following in a series of four tweets:
"Greatly respect JoePa's legacy - always have, always will"
"Thrilled that those victories earned by former PSU athletes and coaches are now again recognized"
"We will continue to use our platform to raise awareness and support for child abuse victims."
"I remain focused on creating conditions for success for our [student-athletes]"
Barbour further cleared things up on Monday evening. As statecollege.com reports:
During a segment of State College WBLF's "Zone Coverage," show, she said, "First of all, I want to apologize for the tweet. This is far too important a subject to vet on a casual; or in social media. ... I'll use my own words. It was inappropriate and insensitive of me to do that from a tweet standpoint.

"But from the standpoint of my concern, and why I've had conversations with our coaches about this, is because this is a moment to celebrate, and I knew before I came to Penn State that 409 meant success with honor, that 409 means far more to this community and this university then wins.

"Having come from the outside," She added. "I know that's not necessarily what everyone else knows and thinks, and frankly, in my five months here, I have learned so much more about Penn State and what an incredible place it is."
Meanwhile, players on Penn State's men's basketball team did not follow through with wearing '409' shirts during their game on Saturday. What say you, AB readers? Were the 409 decals offensive?
{module Penn State '409' Helmet Decals}