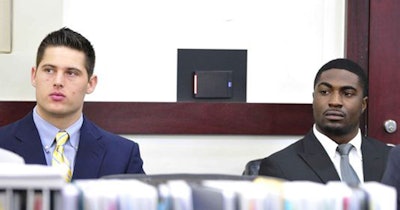 Two former Vanderbilt football players who once had promising futures are now convicted rapists. A Nashville jury found Brandon Vandenburg, 21, of Indio, Calif. and Cory Batey, 21, of Nashville guilty of a total of 16 felony charges after raping an unconscious former student in a Vanderbilt dorm on June 23, 2013. Two other defendants, Brandon Banks and Jaborian "Tip" McKenzie, who are also former Vanderbilt football players, are also accused in the case. They are awaiting trial.
The verdict, which was reached in just more than three hours by the jury, ends an emotional 12-day trial.
Batey, whose 21st birthday was Tuesday, did not visibly react. But his family members — his mother and uncles and cousins, who filled two rows of court benches — broke into sobs.

Vandenburg, 21, shook his head after the foreman read: "Count 1, we find Mr. Vandenburg guilty of aggravated rape." His father, Rob Vandenburg, yelled out into the courtroom, later wiping his eyes with a scarf. "That is terrible," he said. His grief nearly muted the foreman, who continued reading verdicts. All were guilty.

One juror appeared to have tears in her eyes. As the verdict was read, the victim — who does not remember the rape — held her mother's hand and held back tears.

In a statement, the victim — who sat through every day of the trial — thanked prosecutors, detectives and victims advocates.

"You are my heroes and I am so proud of and grateful for each of you," the statement read.
The trial drew national attention as universities around the country work to prevent sexual violence.
"This case gives our entire community an opportunity to talk to each other and to our children, especially to our boys, about the way we treat women, both with our actions and with our words," district attorney Glenn Funk said.
Attorneys for the defendants claimed the men were too drunk to know what they were doing and that a college culture of binge drinking and casual sex should be blamed for the attack. That tactic was deemed a "Hail Mary," by The Tennessean's Jim Todd, who analyzed the case.
"I don't know how culture can be blamed for someone raping, assaulting and urinating on a victim who's unconscious," he said.
The prosecution had plenty of evidence including testimony from police, former and current Vanderbilt students and the victim herself, who said she didn't remember the night in question, only that she woke up in a strange dorm room. The jury also saw images of the rape Vandenburg had taken on his cell phone and sent to his friends. The photos were recovered by police despite being deleted from the cell phones.

According to court testimony, an intoxicated Vandenburg carried the victim into his dorm around 2:30 a.m. on June 23, 2013. The victim was unconscious as Vandenburg set her on the floor. Within two minutes Batey began sexually assaulting her as Vandenburg cheered him on. Vandenburg did not physically touch the victim, but the jury found him "criminally responsible" for his role. He was also found guilty of tampering with evidence and unlawful photography by sending the images to others.
Vanderbilt kicked all four men charged in the crime off the team months ago and also expelled them from the school.
"We will also continue our comprehensive ongoing efforts to raise awareness of the importance of every Vanderbilt student intervening when another student is at risk or in distress,'' the school said in a statement. James Franklin, Vanderbilt's football coach at the time of rape who now coaches at Penn State, did not reply to requests for comment.
As for Batey and Vandenburg, they were taken into custody following the verdict and await sentencing. They face "decades in prison" according to The Tennessean.

RELATED: When Dealing With Sexual Assault Claims, It's a Different Sports World Today