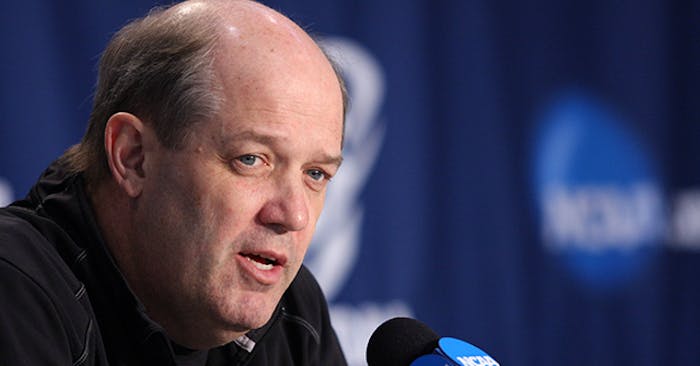 Vanderbilt men's basketball coach Kevin Stallings' team had just knocked off in-state rival Tennessee before his postgame outburst became the biggest story of the night.
Stallings was caught on ESPN's cameras berating Vanderbilt guard Wade Baldwin IV, at one point saying, "I'm going to f---ing kill you." Despite his team's win, Stallings was upset at the freshman for taunting Tennessee players in the closing seconds of the game. Baldwin was seen on cameras clapping in a Tennessee player's face as the Volunteer player walked off the court. Stallings admitted he did not see the incident, but it was brought to his attention by Tennessee staff member.
Following the game Stallings apologized for his comments via a university statement.
"One of our players acted inappropriately and violated what we believe to be good sportsmanship following the game," the statement says. "In my haste to resolve the situation, I made a very inappropriate comment. While obviously it was not meant literally, it was still inappropriate. I apologized to the player immediately following the game."
ESPN reports that Stallings has had issues with Baldwin trash-talking opponents this season. In his postgame news conference, before Stallings learned his tirade had become public, he said Baldwin has "got some things to learn, some growing up to do if he's going to play in this program."
While threatening to "kill" players is certainly never a good idea, Baldwin himself seemed to have no issue with it. After the game he tweeted this:
Coach Stallings is the best coach in America. I felt no offense to anything. We are both fiery people and that's why I chose Vandy

— Wade Baldwin IV (@The_Fourth_Wade) February 27, 2015
All's well that ends well and hopefully Stallings, in his 10th season as Vanderbilt head coach, has learned his lesson about losing his temper.