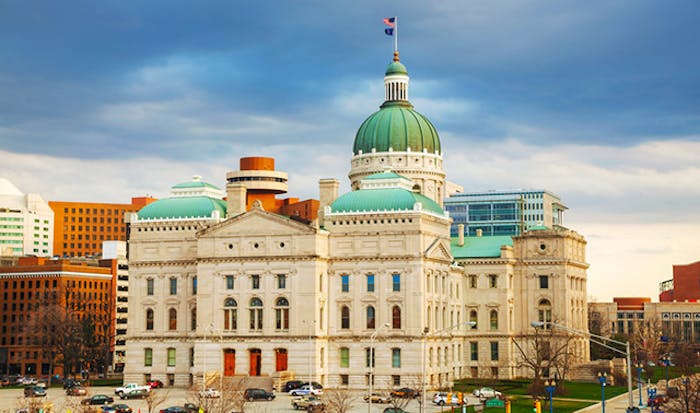 With the men's Final Four just two days away, one of the biggest story lines has had nothing to do with basketball. Instead, the spotlight has been on host-state Indiana and its controversial "religious freedom" law, which is being amended just one week after its introduction.
Republican leaders formally announced amended language to the law Thursday morning. The new language stipulates that businesses cannot use the law as a legal defense to discriminate against patrons based on "race, color, religion, ancestry, age, national origin, disability, sex, sexual orientation, gender identity, or United States military service."

Indiana has anti-discrimination laws, but they do not cover cases involving sexual orientation.The amendment would be the first time the state has offered any protections against discrimination based on sexual orientation or gender identity, but it stops short of a separate anti-discrimination law some critics of the religious law have sought.
 
"We are pleased," House Speaker Brian Bosma said at a news conference, calling the amendment "a very strong statement to assure that every Hoosier's right will be protected."

The amendment was hammered out in response to backlash from across the nation, including  the NCAA, which is hosting the Final Four in Indianapolis this weekend.

"We are especially concerned about how this legislation could affect our student-athletes and employees," NCAA president Mark Emmert said on March 26. "We will work diligently to assure student-athletes competing in, and visitors attending, next week's Men's Final Four in Indianapolis are not impacted negatively by this bill." He went on to say that the NCAA would "closely examine" hosting events there in the future.

Some in college athletics were choosing to boycott this weekend's events because of the law. UConn's men's basketball staff, for example, had planned to skip the Final Four. And USC athletic director Pat Haden, "the proud father of a gay son," said he would not attend a College Football Playoff meeting in Indianapolis this week.
I am the proud father of a gay son. In his honor, I will not be attending the CFP committee meeting in Indy this week. #EmbraceDiversity

— Pat Haden (@ADHadenUSC) March 31, 2015

Obviously, the NCAA was among those appreciative of Indiana's decision to amend the controversial law.

"We are very pleased the Indiana legislature is taking action to amend Senate Bill 101 so that it is clear individuals cannot be discriminated against," Emmert said in a statement on Thursday. "NCAA core values call for an environment that is inclusive and non-discriminatory for our student-athletes, membership, fans, staff and their families. We look forward to the amended bill being passed quickly and signed into law expeditiously by the governor."

Now we can finally turn our attention back to basketball.