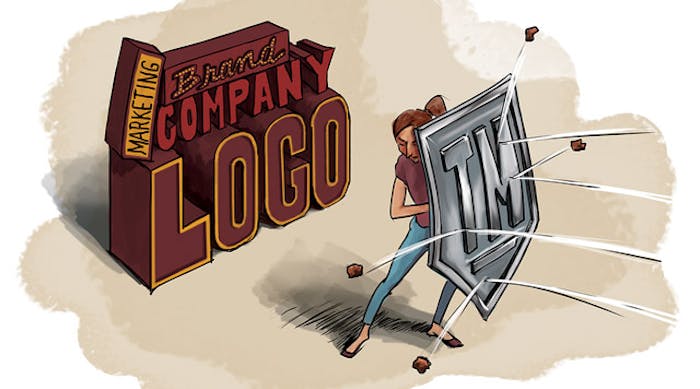 One of the most valuable properties that a sports organization can own is its name. For example, when you hear the words "Nike," "New England Patriots," "Planet Fitness" or "Final Four," certain images come to mind. Since companies, teams and organizations work hard and spend a lot of money to develop the right image, it is essential that they properly protect their name or brand by trademarking it. Here are five tips that will help you protect your trademarks from unauthorized use:
1. Know the law
As a starting point, sports organizations should understand the basic principles behind trademark law. The Federal Trademark Act of 1946, also known as the Lanham Act, defines a trademark as "any word, name, symbol or device, or any combination thereof, adopted or used by a manufacturer or merchant to identify their goods and distinguish them from those manufactured or sold by others." (The Lanham Act, 15 U.S.C. §§ 1051 et seq.)
In addition to manufacturers, the trademark law also protects collective marks and service marks. A collective mark is any mark used by the members of a cooperative, association or other collective organization to indicate membership in that organization. For example, the NFL — as a collective mark for the National Football League — has the same protections under the Lanham Act as any other registered trademark.
A service mark, on the other hand, is a mark used in the sale or advertising of services to identify and distinguish the services of one entity (person) from the services of others.
For example, in Boston Athletic Association v. Sullivan, 867 F.2d 22 (1st Cir. 1989), the Boston Athletic Association (BAA), the charitable organization that conducts the Boston Marathon, sought to prevent Sullivan from imprinting and selling T-shirts and other apparel with designs infringing on BAA's service marks "Boston Marathon." In ruling that the BAA owns the name "Boston Marathon," the First Circuit Court held that BAA's marks were its most valuable asset and were at all relevant times valid and enforceable. Additionally, the court found that since an average person — or in particular the purchasing public — would likely believe that the BAA sponsored, produced, licensed or otherwise endorsed Sullivan's shirts and other goods with logos referring to the Boston Marathon, Sullivan's goods were likely to cause confusion in the minds of consumers, and he was enjoined from manufacturing or selling goods displaying the name "Boston Marathon" or any other design that is confusingly similar to BAA's marks.
 
2. Register your trademarks
When you open a business or provide a service under a brand name, the business or service automatically receives common law trademark rights, including the right to stop others from using the trademark. However, there are a number of additional benefits trademark owners gain when they register their trademark with the United States Patent and Trademark Office that outweigh the additional cost.
After an examination period, if no one steps forward to oppose the registration, you become the presumptive owner of the trademark. Therefore, if you sue someone else for using the mark, ownership is easier to prove by having registered the trademark.
A good example of the protection trademark law affords manufacturers was discussed in the December 2011 issue of AB, which highlighted the legal battle between POINT 3 Basketball and Nike. In April 2011, Nike introduced its first Dwyane Wade signature shoes, named the Jordan Fly Wade. The shoes' new logo featured a number 3, Wade's number on the Miami Heat, in crosshairs. Nike's logo, however, looked virtually identical to POINT 3's federally registered logo. In ruling that Nike infringed POINT 3's registered trademark, the court held that since the two products are similar, use the same marketing channels and market their products to the same demographic, it was clear that the Nike trademark would confuse consumers and that Nike was infringing on POINT 3's trademark.
Other benefits include having your trademark on the federal database of registered marks so that would-be competitors can easily discover that the trademark is in use, thereby forcing them to develop a different mark that will not confuse consumers. Additionally, trademark owners who register with the federal trademark office are granted the right to recover profits, damages and costs for infringement, including attorney's fees, as well as the right to sue in federal court instead of state courts for infringements.
Even entities that aren't competing manufacturers stand to gain by registering their marks. In 2015, the Glenview (Ill.) Park District successfully defended its trademark "Experience It," which it had registered four years earlier, as the NCAA began to use a similar phrase, "Experience It Live."
 
3. Analyze potential confusion
Even after you register your trademark, there still may be times when you need to sue another organization for trademark infringement because their product or service includes a mark similar to yours.
In order to demonstrate trademark infringement under Section 1114(a) of the Lanham Act, the owner of the trademark must show that the owner has a protectable property right in the trademark, demonstrated by use and registration. In addition, the trademark owner must also show that the other party's use of a similar mark is likely to cause confusion or mistake, or deceive consumers as to which entity is the true source of the mark.
When analyzing potential consumer confusion, the courts focus on the following factors:
1. Strength of the mark
2. Similarity between the marks
3. Similarity between the products and marketing channels used to sell them
4. Likelihood that the trademark owner will expand its use of the mark on future products
5. Evidence of actual confusion
6. Defendant's "good faith" intent in adopting the mark
7. Quality of the defendant's product
8. Sophistication of the consumers
For example, in Adidas America v. Payless Shoesource, 2002 U.S. Dist. LEXIS 27438, the court was asked to determine if the manufacturing and selling of shoes with three stripes similar to those used by Adidas infringed on Adidas's trademark. In finding that Adidas had a protected trademark, the court noted that Adidas was awarded a federal trademark by the United States Patent and Trademark Office in 1994 for its "Three Stripe" mark.
Next, the court found that by manufacturing and selling shoes with Adidas' same Three Stripe trademark, Payless Shoesource's shoes were likely to deceive, confuse and mislead prospective purchasers into believing that the shoes were manufactured by or in some manner associated with Adidas. In finding that Payless intentionally infringed on Adidas's trademark, a jury awarded Adidas $30.6 million in actual damages, $137 million in punitive damages and $137 million in Payless profits for a total of $304.6 million.
 
4. Protect your trademarks
In addition to preventing consumer confusion, trademark law is also intended to help protect manufacturers and keep competitors from infringing on their business or injuring them by trying to pass off products of inferior quality using similar marks.
However, if you do not prevent people from using your trademark, the mark can lose its strength and weaken your ability to prevent unauthorized usage. As a result, manufacturers and trademark owners need to be constantly on the lookout for illegal use of their mark.
A good example of the importance of protecting your trademark involves Texas A&M University and the school's "12th Man" trademark. Texas A&M sued both the Indianapolis Colts and the Seattle Seahawks for using the term "12th Man," which Texas A&M had trademarked in 1990. The Seahawks and Texas A&M reached an agreement in 2006, which has been renewed twice since, whereby Seattle has agreed to pay the university for the limited right to use the school's "12th Man" trademark. The Indianapolis Colts, however, agreed to stop using the trademark after Texas A&M filed a lawsuit stemming from the team's use of the "12th Man" without the school's permission.
 
5. Avoid using personal names
Although we all would like to believe that our names are special, personal names are not inherently distinctive terms and can only receive trademark protection after they obtain secondary meaning. For example, a basic Google search of the name John Wolohan will retrieve at least six other people with the same name.
In order for a person's name to gain trademark protection it must obtain a secondary meaning. In order to obtain secondary meaning, the name or mark must have widespread use and public recognition so that the mark primarily indicates the source of the good or service instead of the good or service itself. For example, in Hirsch v. S.C. Johnson & Son, 280 N.W. 129 (Wis. 1979), S.C. Johnson & Son used the name "Crazylegs" on a shaving gel. Crazylegs was the nickname a sportswriter had given Elroy Hirsch when he played football in college and the NFL. In ruling for Hirsch, the Supreme Court of Wisconsin found that under trademark law all that was necessary was that Hirsch show that he was associated with the name Crazylegs and that its use on a shaving gel for women created a likelihood of confusion among consumers.
There are other trademark issues that could be added to this list — abandonment, dilution, ambush marking, fair-use defense and others — yet two key takeaways remain: register your trademark and protect it against unauthorized use.
First, while you may legally receive common law trademark protection once you publicly use the trademark in your business, you can only receive the maximum protection and benefit of the trademark law once you register it with the United States Patent and Trademark Office. Second, if you fail to protect your trademark against unauthorized use, it becomes harder and harder to prevent future unauthorized uses.
By failing to prevent unauthorized uses you are diminishing the value of your brand and trademark.
---
Attorney John Wolohan, Jeeyoon Kim and Patrick Walsh are professors in the Sport Management program at Syracuse University.
---
This article originally appeared in the July | August 2017 issue of Athletic Business with the title "Five tips for protecting your trademark" Athletic Business is a free magazine for professionals in the athletic, fitness and recreation industry. Click here to subscribe.