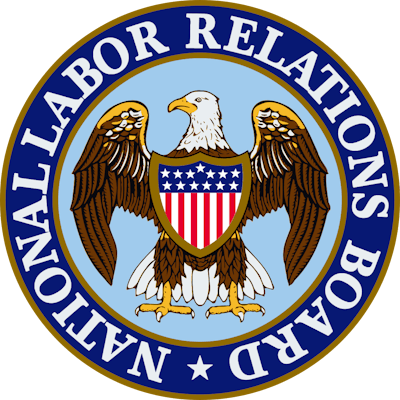 National Labor Relations Board
Some college athletes are employees and should be allowed to unionize, according to legal advice from National Labor Relations Board general counsel Jennifer Abruzzo.
Abruzzo released a memo Wednesday, saying that "scholarship football players at Division I FBS private colleges and universities, and other similarly situated Players at Academic Institutions, are employees under the NLRA. Indeed, Players at Academic Institutions perform services for their colleges and the NCAA, in return for compensation, and subject to their control."
The NCAA responded with a statement that said, "College athletes are students who compete against other students, not employees who compete against other employees. Like other students on a college or university campus who receive scholarships, those who participate in college sports are student. Both academics and athletics are part of a total educational experience that is unique to the United States and vital to the holistic development of all who participate."
According to The Associated Press, Abruzzo's "memo would extend protections to all athletes who meet the legal definition of an employee: someone who performs services for an institution and is subject to its control."
Abruzzo's memo doesn't immediately change anything, but serves as legal advice for the NLRB should a case arise within the college athletics landscape. The NLRB reportedly has authority only over private schools, and public university athletes will need to look to state legislatures or Congress for workplace protections. The memo cited a 2015 case involving Northwestern University football players who were thwarted from forming a union when the board said taking their side "would not promote stability in labor relations."
"Players at Academic Institutions perform services for institutions in return for compensation and subject to their control. Thus, the broad language of Section 2(3) of the Act, the policies underlying the NLRA, Board law, and the common law fully support the conclusion that certain Players at Academic Institutions are statutory employees, who have the right to act collectively to improve their terms and conditions of employment," Abruzzo wrote this week. "My intent in issuing this memo is to help educate the public, especially Players at Academic Institutions, colleges and universities, athletic conferences, and the NCAA, about the legal position that I will be taking regarding employee status and misclassification in appropriate cases."
The Associated Press reported that Abruzzo's memo also threatened action against schools, conferences and the NCAA if they continue to use the term "student-athlete." Abruzzo wrote that that term was created to disguise the employment relationship with college athletes.
"It just perpetuates this notion that players at academic institutions are not workers that have statutory protection," she wrote. "It is chilling workers' rights to engage with one another to improve their terms and conditions of employment."
Abruzzo's memo is the latest development in a year full of changes in the college athletics landscape. Athletes are continuing seeing more power and rights, as they protested during the NCAA men's and women's basketball tournaments this spring before a summer in which they earned the right to benefit from their name, image and likeness.
"Players at academic institutions have gained more power as they better understand their value in generating billions of dollars in revenue for their colleges and universities, athletic conferences, and the NCAA," Abruzzo wrote. "And this increased activism and demand for fair treatment has been met with greater support from some coaches, fans, and school administrators. Players at academic institutions who engage in concerted activities to improve their working conditions have the right to be protected from retaliation."
"In the big picture, this advisory adds another pressure point for change," Knight Commission executive director Amy Perko said, according to Sports Illustrated. "College sports leaders know that change is coming. The question now is do they want to keep NLRB out, state and federal lawmakers out, and the courts out by creating bold changes so that the leaders of college sports are designing its future."
Sports Illustrated also spoke with Kansas City-based sports attorney Mit Winter, who said "I don't know if universities and conferences and the NCAA want to participate in a system where they are collectively bargaining with the athletes. It remains to be seen," Kansas City-based sports attorney Mat Winter said. "There are different models that have been kicked around where athletic teams are spun off from the school and are their own standalone entities."