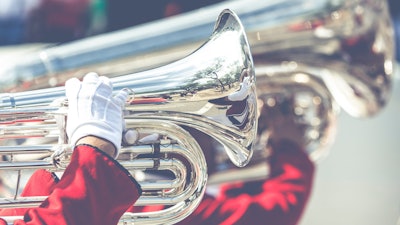 A high school band director in Wisconsin is under investigation after 13 women reported in a joint statement that they were groomed by him.
The 13 women who signed the joint statement all reported that the former Oregon High School band director, David Henzie-Skogen, 42, started sexual relationships with them shortly after they turned 18. One of the members has since come forward and alleged that Henzie-Skogen started a relationship with her when she was just 17.
According to the Wisconsin State Journal, the Oregon-based Shadow Drum & Bugle Corps — an independent, competitive marching band organization that has some students from Oregon High School but is not affiliated with the school — announced earlier this month that David Henzie-Skogen, 42, had been dismissed in May over the alleged inappropriate grooming behavior.
The Oregon Police Department is now looking into the alleged abuse.
The alleged grooming behavior dates back to 2007, when Henzie-Skogen would have been in his late 20s, and extends to 2021. The Shadow Drum Bugle Corps found a pattern of Henzie-Skogen developing relationship with students, making sexual comments to them, sending them inappropriate messages via text and email, and then starting physical relationships with them as the students had left the Shadow Drum & Bugle Corps program.
At least nine of the women who signed the joint statement had a physical relationship with Henzie-Skogan, with some of the relationships overlapping.
"The stories I hear and the screenshots I see are repulsive, and absolutely outside the bounds of ethical behavior between a teacher and a student or even a teacher and a former student, and outside of our code of conduct at Shadow," former corps director Rebecca Compton-Allen told the State Journal.