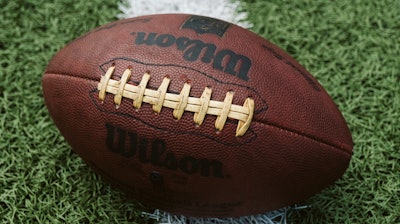 The NFL agreed to end race-based adjustments in dementia testing that critics said made it difficult for Black retirees to qualify for awards in the $1 billion settlement of concussion claims, according to a proposed deal filed Wednesday in federal court.
As reported by The Associated Press, the league's prior use of "race-norming" had come to light only after two former NFL players filed a civil rights lawsuit over it in 2019. The adjustments, critics say, may have prevented hundreds of Black players suffering from dementia to win awards that average $500,000 or more per player.
The binary scoring system used in dementia testing — one for Black people, one for everyone else — was developed by neurologists in the 1990s as a crude way to factor in a patient's socioeconomic background, the AP reported. Experts say it was never meant to be used to determine payouts in a court settlement. That the NFL used it at all sparked public outrage.
To date, about 2,000 men have applied for dementia awards, but only 30 percent have been approved. In some cases, the NFL appealed payouts awarded to Black men if doctors did not apply the racial adjustment. While the NFL would admit no wrongdoing under the terms of the settlement, the new plan would forbid any challenges based on race.
"No race norms or race demographic estimates — whether Black or white — shall be used in the settlement program going forward," the proposal said.
The NFL's Black retirees will now have the chance to have their tests rescored or, in some cases, seek a new round of cognitive testing, according to the settlement, which was first detailed in The New York Times on Wednesday.
The proposal, which must still be approved by a judge, follows months of closed-door negotiations between the NFL, class counsel for thousands of retired players, and lawyers for the Black players who filed suit, Najeh Davenport and Kevin Henry.
"We look forward to the court's prompt approval of the agreement, which provides for a race-neutral evaluation process that will ensure diagnostic accuracy and fairness in the concussion settlement," the NFL said in a statement, according to the AP.
To date, the concussion fund has paid out $821 million for five types of brain injuries, including early and advanced dementia, Parkinson's disease and Lou Gehrig's disease, also known as ALS.
The vast majority of the league's players — 70 percent of active players and more than 60 percent of living retirees — are Black, meaning the changes are expected to be significant and potentially costly for the NFL, the AP reported.