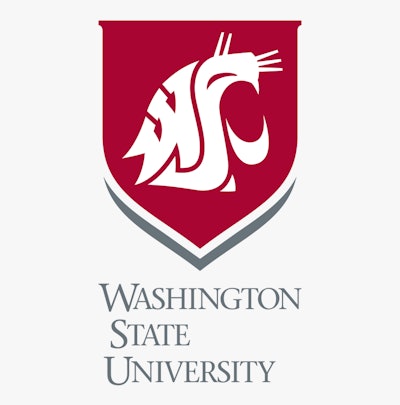 A city councilman in Pullman, Wash., filed a police report alleging Washington State University athletic director Pat Chun verbally abused him and exhibited threatening behavior toward him at the councilman's place of business.
Although police characterized the issue as a civil matter, Chun has accused the investigating officer of having a conflict of interest, suggesting that he and the councilman possibly conspired as a means for retaliation.
As reported by the The Spokesman-Review in Spokane, councilman Al Sorensen contacted police about a Sept. 29 incident involving Sorensen; Sorensen's daughter, Jennifer; Chun and Chun's wife, Natalie. The encounter — which according to Whitman County Watch, took place at Al Sorenson's Pioneer Insurance office — saw Pat Chun allegedly threaten Sorensen in a profanity-laden confrontation over a video posted on social media by Jennifer Sorensen on Sept. 17.
The video, approximately 30 seconds long and taken from inside a moving car, showed a gathering of people at Chun's house. Roughly 35 people were seen gathered outdoors at tables beneath a banquet tent. For the most part, attendees are seen talking in close proximity without face coverings.
In a declaration filed with the police department Tuesday and obtained by The Spokesman-Review, Pat Chun said the event was a "work-related" reception. He believes Jennifer Sorensen "falsely accused" him and WSU of wrongdoings related to local health and safety standards.
Outdoor events with fewer than 500 people, where physical distancing is possible, are exempted from the mask mandate Washington governor Jay Inslee announced in September to help stem the spread of the COVID-19 delta variant. Pat Chun has previously stated he is vaccinated against COVID-19.
"From my perspective, I believe her actions were dishonest and unethical," Chun wrote. "Also, to put the home of my family on Facebook attached to an erroneous claim would seem to constitute some level of cyber bullying."
Sorensen first contacted police the day of the incident. Thirty days later, on Oct. 19, he told police he wanted to make an official report in an attempt to protect himself from Pat Chun claiming something else. The filing took place a day after WSU fired football coach Nick Rolovich for failing to comply with the state's COVID-19 vaccination mandate.
According to Sorensen's account outlined in the report, the Chuns walked into Al Sorensen's office where they had a discussion about the two canceling their insurance policies with Pioneer. He said Pat Chun then changed the subject to the video. Sorensen claimed Chun became verbally abusive, including the use of profanity, and threatening to the point he would discourage others from doing business with Pioneer Insurance and thus "destroy" Sorensen.
In his own statement, Chun said, "On Sept. 29, 2021, my wife, Natalie and I communicated to Al Sorensen directly at Sorensen Insurance [sic] that we had canceled our insurance with his agency and demanded an explanation as to why he and his employee/daughter would treat customers in this manner. We also requested the video of my home be taken down."
Jennifer Sorensen claims the video was taken down at the time of the office confrontation.
Chun alleged he and his wife are "another example" of Pullman residents targeted by Sorensen's "abuse of power and misuse of local tax payer resources for his personal and political gains."
As reported by The Spokesman-Review, Sorensen was a candidate this fall for a third consecutive four-year term on the Pullman City Council. He also teaches personal finance classes at WSU.
He made headlines in May 2020 for suggesting that people not get tested for COVID-19 so Whitman County could reopen sooner.
Sorensen has "permanently trespassed" the Chuns from his home and two businesses he owns, Pioneer Insurance and Flirt, a women's clothing store, according to the police report.