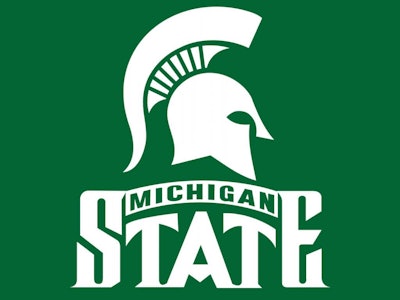 In a 2-1 ruling Tuesday, the U.S. Court of Appeals for the Sixth Circuit reinstated a lawsuit alleging that Michigan State University violated Title IX when it eliminated its women's swimming and diving team in 2020.
The lawsuit now returns to district court.
As reported by Inside Higher Ed, members of the women's swimming and diving program initially sued in early 2021 and sought a preliminary injunction to prevent the dissolution of the team, arguing that Michigan State failed to provide female athletes with equal athletic opportunities, as required by Title IX of the Education Amendments of 1972.
Michigan State announced the elimination of both the men's and women's swimming and diving programs in October 2020, citing "a financial crisis unlike any we've ever seen in college athletics." Despite citing financial concerns for the athletic department in its decision to cut those programs in 2020, the university recently signed its head football coach to a $95 million contract, IHE reported.
At the time, a letter signed by Michigan State president Samuel L. Stanley Jr. and athletic director Bill Beekman stated, "The effects of the COVID-19 pandemic have touched every area of our life. It's forced us all to evaluate not only our current place, but also our prospects for the future. Michigan State Athletics is not immune from those calculations. Sadly, as a University and an athletic department, we've reached a decision that MSU Athletics will no longer sponsor men's and women's swimming and diving as varsity sports following the conclusion of the 2020-21 season. We understand that the news is devastating to our outstanding student-athletes in these sports, as well as to their coaches, but with every thoughtful analysis it became increasingly clear that we were not positioned to offer the best experience to our student-athletes, either now or in the future."
Related: Michigan State to Drop Swimming After 2020-21 Season
Seven months laster, in May 2021, Beekman was still defending the decision. stating, "We really came up with five criteria that would help us analyze the various sports and their viability. The five criteria were, as a starting point, the potential for the sport to be successful going forward. Two, what it would cost to actually make that sport more competitive going forward. Three, were there potential cost savings if the sport were discontinued. Four, the impact on diversity and equity in our department. And five, the impact on the student-athletes experience across all sports."
Related: MSU Defends Cuts, Requests Loan to Cover Losses
In between, on Jan. 15, 2021, 11 MSU swimmers filed suit in Michigan's Western District, claiming that, even before the women's swimming and diving team was eliminated, Michigan State "disproportionately under-represents women in athletic opportunities" and over inflates rosters for women's teams in rowing, cross country and indoor and outdoor track. It says the university should be adding women's sports instead of eliminating them.
Related: Michigan State Swimmers, Divers File Title IX Lawsuit
Michigan State cited limited facilities and a projected athletic department budget shortfall of at least $30 million due to the COVID-19 pandemic to justify its decision. The two programs cost about $2 million as part of an athletic budget that brought in $140 million in the 2019 fiscal year.
AB Today reported this week that MSU's COVID-related budgetary shortfall actually wound up being $15.4 million.
Related: Spartan Athletics $15.4M Loss Pales Compared to Peer Schools