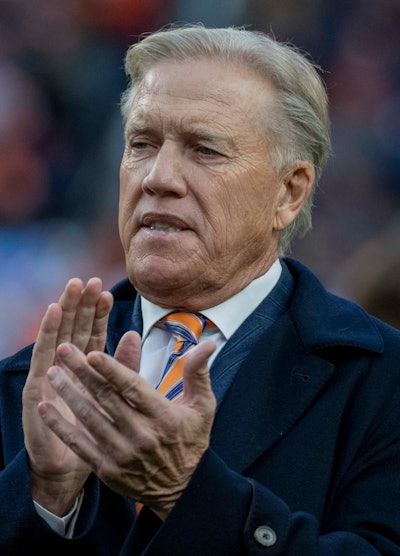 Joe Glorioso | All-Pro Reels (Wiki - Creative Commons)
The New York Giants, as well as Denver Broncos president of football operations and former NFL quarterback John Elway, have denied recent allegations contained in a lawsuit filed by former Miami Dolphins head coach Brian Flores.
In Flores' lawsuit, which alleges the NFL is racist and discriminatory in its hiring practices, he claims that Elway was hungover when he interviewed Flores in 2019, asserting that the interview with the Broncos was a "sham."
Flores said that Elway and Broncos CEO Joe Ellis showed up an hour late and appeared "completely disheveled," noting that it was obvious Elway had been "drinking heavily the night before."
Elway said he hadn't planned to address Flores' claims but said he "could not be silent any longer with my character, integrity and professionalism being attacked."
The Broncos eventually hired Vic Fangio as their head coach, but Elway said the team took Flores seriously as a candidate, allowing him a three-hour interview.
"It's unfortunate and shocking to learn for the first time this week that Brian felt differently about our interview with him," Elway said, according to the USA Today, adding he interviewed Flores in "good faith."
"For Brian to make an assumption about my appearance and state of mind that morning was subjective, hurtful and just plain wrong," Elway said, adding that the reason for his appearance was that he had flown through the night and had gotten just a few hours of sleep.
The New York Giants, who are also named in Flores' suit, have also strongly denied any wrongdoing.
According to ESPN, the Giants laid out a timeline of events in response to Flores' claims that the team had already made a decision to hire Brian Daboll before interviewing Flores. The team also said that Bill Belichick was only offering his opinion when he accidentally texted Flores and not Daboll to congratulate him on being hired as the Giants' next head coach.
"The allegation that the Giants' decision had been made prior to Friday evening, January 28, is false," the Giants said in the lengthy statement. "And to base that allegation on a text exchange with Bill Belichick in which he ultimately states that he "thinks" Brian Daboll would get the job is irresponsible. The text exchange occurred the day before Coach Daboll's in-person interview even took place. Giants' ownership would never hire a head coach based only on a 20-minute zoom interview, which is all that Mr. Daboll had at that point.
"In addition, Mr. Belichick does not speak for and has no affiliation with the Giants. Mr. Belichick's text exchange provides no insight into what actually transpired during our head coaching search."