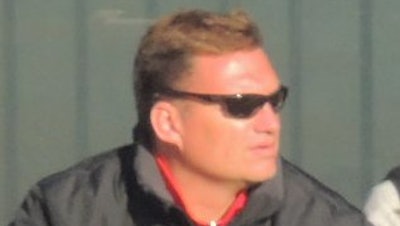 Former National Women's Soccer League head coach Rory Dames has been accused by former youth players of sexual, verbal and emotional misconduct in the 1990s and 2000s.
The Washington Post on Tuesday published a lengthy report on the allegations leveled against Dames by former players, including some as young as 14. More than a dozen players say Dames was emotionally abusive toward them as teenagers.
The Post unearthed police reports that reveal one girl alleges Dames pinched her when she refused to give him a massage, and another boy who said Dames punched him in the stomach.
Dames resigned back in November just hours before multiple allegations of emotional and verbal abuse were published. His resignation came just 48 hours after the Red Stars lost in the NWSL championship to the Spirit.
In October, the Post published a report that alleged Dames made dinners and lunches with him mandatory. He also joked that an Asian player should be smarter than how she was playing, and benched a player after she introduced him to her boyfriend.
Police reports from the most recent Post report reveal allegations of inappropriate touching and making sexual jokes at players' expense.
United States Women's National Team star Megan Rapinoe on Monday tweeted that Dames is "yet another monster operating in plain sight for decades."
"To all the little girls who have turned into women who have suffered verbal, emotional, sexual and physical abuse under Rory you have been failed to (sic) deeply," Rapinoe tweeted. "You are brave beyond belief."
Christen Press, a star on the USWNT and a member of Angel City FC who played for Dames for four seasons, filed a complaint against Dames that was uncovered by the Post.
"I was terrified of what Rory would do and say if he found out this was something I'd said," Press alleged. "And then I was made to feel by U.S. Soccer that I was in the wrong, there was nothing to report, and that this was acceptable."
Dames' lawyer dismissed the claims, saying that allegations of grooming and sexual harassment were "false."