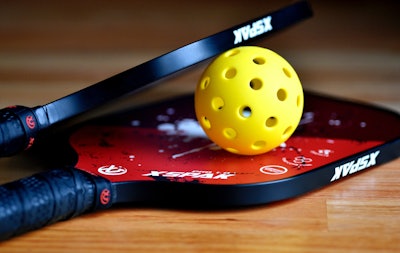 A 71-year-old man who used a permanent marker to draw pickleball lines on the gymnasium floor at a Denver recreation center will not face charges related to the incident.
The Denver District Attorney's Office on Tuesday said it had declined to file charges against Arslan Guney who is known by some as "The Mayor of Pickleball."
According to the local NBC affiliate, Denver Parks and Recreation will attempt to resolved the matter through mediation.
Guney was initially banned from all of Denver's rec centers after he used permanent black marker to draw boxes and X's on the floor to mark the makeshift pickleball court. The rec center's court is usually marked with temporary yellow cloth lines for pickleball. The local parks department estimated the damage to the court at $10,000. The rec center said that it is required to report all vandalism to the police.
"Anytime there's any type of vandalism at any of our city-owned facilities, we do file a police report," Parks and Rec spokeswoman Cynthia Karvaski said. "It's protocol to file a report. A person took a permanent marker, came into the gym and marked the floor. That would be considered vandalism. Similar to if we walked into the City and County Building and drew on the floor."
"My office has not charged Mr. Arslan Guney with any criminal counts regarding the pickleball incident with Denver Parks and Recreation," said Denver District Attorney Beth McCann in a statement. "At my suggestion, the parties will attempt to resolve this matter through mediation with a city mediator. I am optimistic that by sitting down and working out a mutually agreeable solution, this matter can be solved amicably."
Denver Parks and Recreation provided the following statement:
Denver Parks and Recreation has referred the matter at Central Park Recreation Center to mediation to work mutually toward a resolution. The District Attorney has not yet charged Mr. Guney, which will allow the parties to move forward with and complete mediation. No further statements will be provided through the course of mediation. We are hopeful a resolution can be reached.