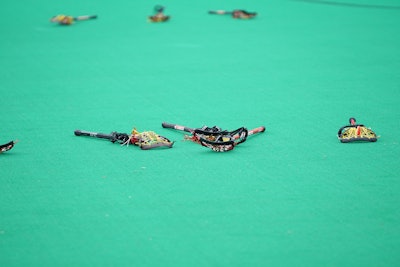 A former University of Virginia men's lacrosse player is liable for the 2010 fatal beating of his girlfriend, who played for the Cavaliers women's team, and must pay $15 million in damages, a jury found Monday.
As reported by The Associated Press, George Huguely V is currently serving a 23-year prison sentence in the killing of Yeardley Love after being convicted of second-degree murder during a 2012 criminal trial. While UVA lacrosse players, Huguely and Love had a two-year, on-again, off-again relationship before Yeardley was found beaten to death in her off-campus apartment on May 3, 2010.
The wrongful death lawsuit sought to hold Huguely civilly liable in Love's death and asked the jury to award $29.5 million in compensatory damages, plus $1 million in punitive damages, the AP reported.
On Monday, the jury awarded $7.5 million in compensatory damages to both Yeardley's mother, Sharon Love, and her sister, Lexi Love Hodges. Punitive damages were not awarded.
Both women broke down in tears when the jury's verdict was read in Charlottesville Circuit Court Monday night after about two hours of deliberations. The verdict came almost 12 years to the day Yeardley Love was found dead in her off-campus apartment.
"This had been a tremendous ordeal," said Paul Bekman, an attorney for the family, according to the AP report.
"They've lived through this, they lived through the criminal trial, and now they had to go through this civil trial," he said. "It is a partial closure that means a lot to them."
Bekman said the jury was asked to answer the question of whether Huguely acted with "willful and wanton" misconduct and whether his actions were in "conscious disregard" of Love's rights. The jury answered "yes," a finding that meant they could award punitive damages, but they did not.
But Bekman said the finding of willful and wanton misconduct means that Huguely will not be able to have the $15 million in compensatory damages dismissed by a bankruptcy court if he argues that he does not have the assets to pay the judgment.
During the trial, Huguely's lawyer, Matthew Green, acknowledged that Huguely's actions caused Yeardley's death and said her family was entitled to compensatory damages, the AP reported.