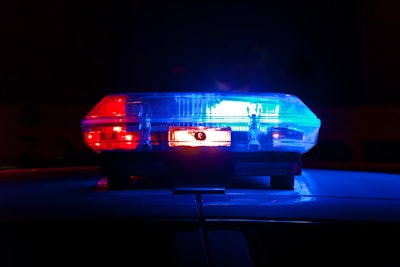 An April 20 traffic stop of the Delaware State University women's lacrosse team's bus in Georgia, which resulted in a full search of the players' luggage, has drawn the attention of Delaware's governor and sparked outrage from school administrators.
The team was returning from a road game in Florida against Stetson University on I-95 when the bus was pulled over by deputies in Liberty County, Georgia. Officers said the bus was improperly traveling in the left lane.
Once on the bus, a Liberty County Sheriff's Office deputy announced that deputies were going to search the team member's luggage and warned them to let him know ahead of time if they had any marijuana in their belongings. The deputies employed the use of drug-sniffing dogs in their search.
The deputies in the video of the incident posted online are white, and the majority of the players on the team are black.
DSU President Tony Allen informed the university community about the incident in a letter early Monday. In it, Allen said DSU has informed Delaware Gov. John Carney, the state Attorney General's Office, Delaware's congressional delegation and the Congressional Black Caucus about the incident .
"They, like me, are incensed," Allen wrote. "We have also reached out to Georgia Law Enforcement and are exploring options for recourse – legal and otherwise – available to our student-athletes, our coaches, and the university."
Delaware women's lacrosse coach Pamella Jenkins told the Delaware News Journal the incident was "very traumatizing" and credited her players for remaining calm.
"The infuriating thing was the assumption of guilt on their [deputies'] behalf," Jenkins said. "That was what made me so upset because I trust my girls."
"One of my student-athletes asked them 'How did we go from a routine traffic stop to narcotics-sniffing dogs going through our belongings?'" Jenkins said. "The police officer said that on this stretch of highway there are a lot of buses that are smuggling people and narcotics and they have to be diligent.'"
Delaware governor John Carney released a statement Monday calling the video "upsetting, concerning and disappointing."
"Moments like these should be relegated to part of our country's complicated history," Carney said, "but they continue to occur with sad regularity in communities across our country. It's especially hard when it impacts our own community.''
In his letter to the campus community, Allen wrote in bold, "We do not intend to let this or any other incident like it pass idly by. We are prepared to go wherever the evidence leads us. We have video. We have allies. Perhaps more significantly, we have the courage of our convictions."
The deputies removed a gift-wrapped package from Aniya Aiken's luggage and asked Aiken where she had received it. She said it was a gift from her aunt and was told not to open it until she got back to campus.
"He said, 'You accepted something and you don't know what it is?'" Jenkins said, and the deputy was told again it was a gift to be opened later.
The deputies opened the gift, which turned out to be a jewelry box that was a graduation present.
Driver Tim Jones was not cited in the incident and nothing illegal was found on the bus. The team was allowed to continue on its way after the 45-minute search.
In a joint statement, Delaware senators Tom Carper and Chris Coons and U.S. Rep. Lisa Blunt Rochester termed the situation "deeply disturbing."
"No one should be made to feel unsafe or humiliated by law enforcement or any entity who has sworn to protect and serve them," the statement read. "That's especially true for students who have sought out HBCUs like Delaware State University with a long history of empowering communities of color that have far too often faced discrimination and other barriers to opportunity."