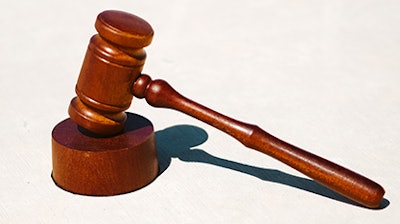 A man who was accused of punching a Florida high school basketball coach during a fight on the court last week is now asking police to press charges against the injured coach and one of the players involved in the fight.
David Church Sr. was arrested following the fight at Mariner High School on Sept. 7. The fight broke out after a flagrant foul during the end of a game between Ida Baker and Dunbar high schools. Church's son was on the court playing and was head butted by another player.
Cape Coral police charged Church with batter, but Church says he was not the aggressor in the fight, saying he was just defending himself.
"They painted a picture of me being someone I am not," Church told the local NBC affiliate. "We were attacked. I was defending myself, I was defending my son. At no point was I the aggressor. We was simply defending ourselves when we were attacked."
Church contends that he didn't immediately go onto the court when the fight began, and only did so when his son was "attacked."
"I watched blood spit from my son's face. I watched him get hit again after that," Church said. "There was no security at the game, no matter what they say now," he said. "I didn't have that luxury of letting my son get pummeled until he's unconscious while I wait for someone to decide to break it up."
In a statement this week, the school district called the events a "practice." Only coaches and referees were in the building. There were no police or security in the building at the time.
"We were in the middle of a melee with no security and it was just me and my boy," Church said.
Church, who is Black, has since went to the NAACP for help, which guided him through filing the complaint with the Cape Coral Police Department.
"We were attacked. I was defending myself," Chuch said. "If you charge 30 people, it's still wrong to charge me. All I was doing is defending myself and my son."