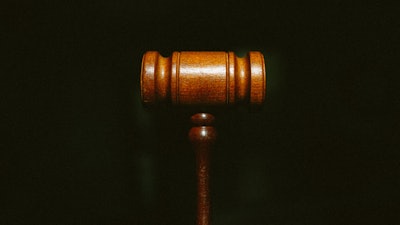 A youth hockey coach in Indiana has been sentenced to two months in jail, extended supervision and he must now register as a sex offender for trying to meet a teenager for sex.
Christien Joubert, 39, pleaded guilty to a charge of child solicitation and was sentenced in Berrien County court to five years of probation after he serves his jail time. Joubert will also be required to register as a sex offender for 25 years.
The South Bend Tribune reported that Joubert has worked at The Ice Box in South Bend and with the Irish Youth Hockey League.
Joubert was arrested in May for trying to meet an underage girl at a Niles hotel as part of a sting operation by Berrien and Genesee county sheriff's departments. Joubert responded to an advertisement on a dating website that promised sex acts in exchange for money and went to meet a person he believed to be a 15-year-old girl, the Tribune reported.
Before he heard the judge's ruling, Joubert said in court that his actions had negatively affected the Michiana hockey scene. While in handcuffs Monday, Joubert apologized to his wife and children for the pain he caused them, the Tribune reported.
"I apologize to all the hockey players I've coached over the last 18 years and their families," Joubert said.
Officers had posed as a 15-year-old underage girl online and told Joubert to bring $80 for the "sexual favors"" and asked for some soda. When Joubert arrived at the hotel room with the soda, officers arrested him.
Until his arrest, Joubert was involved with a couple of youth hockey organizations in South Bend and ran a travel league team.
Joubert was the director of hockey operations in South Bend at The Ice Box, an ice rink that hosts a number of leagues and tournaments for youth and adult teams. The Ice Box's general manager told The Tribune that Joubert was fired after she learned of his arrest.
"To the best of our knowledge, the inappropriate activity alleged was completely independent of and has no connection to Mr. Joubert's work at The Ice Box," the rink said in a statement.