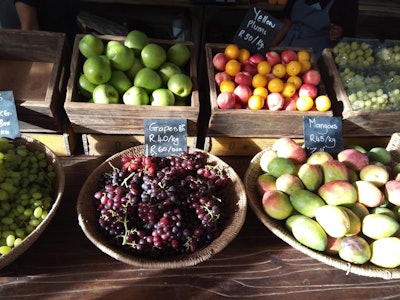 Mooresville, N.C., has been levying a daily fine on the local Lowe's YMCA for hosting a farmer's market that the town deems to be a "full-time retail establishment," not an "outdoor seasonal sales market."

Josh's Farmers Market currently operates in the outside beside Lowe's YMCA. However, as a result of the town's designation, Josh's must operate in a building, like the town's other 1,800 retailers do.
As of Oct. 6, the YMCA accrued $1,500 in fines, according to Danny Wilson, Mooresville director of planning and community development.
Josh's and the city have reached an "understanding" that the market will leave the site.
"The YMCA is committed to being in compliance with the Town of Mooresville's requirements, and to continued service to the Mooresville community and its residents," Y officials said in the statement.
According to The Charlotte Observer, the market disputes how the town classifies its operation and is appealing the fines.
The market is spread across 1.5 acres beside Lowe's YMCA, which let the market operate on its land after the market was forced from its original location on Williamson Road.
Josh's has a "use contract" with Lowe's YMCA, meaning the market takes full legal responsibility anything adverse that might happen at the market, including fines imposed by the town.
The fines imposed on the YMCA have since been stayed, as Josh's has appealed them.
"Town Staff has met with the YMCA and Josh's Farmers Market on numerous occasions over the past several months in an attempt to have the outstanding violations resolved before fines were assessed," according to Wilson's statement.
"Unfortunately, the property has not been brought into compliance with Town ordinances," he said.